Bomber Command Memorial to be built
The memorial will honour the 55,573 airmen from Bomber Command who lost their lives in World War Two. It is due for completion in 2012 when …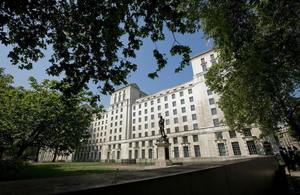 The memorial will honour the 55,573 airmen from Bomber Command who lost their lives in World War Two. It is due for completion in 2012 when the RAF Benevolent Fund will take over its ownership and ongoing maintenance.
Designed by architect Liam O'Connor, who previously designed the Armed Forces Memorial in Staffordshire, the memorial will feature as its centrepiece a nine-foot-high (2.7m) bronze by sculptor Philip Jackson depicting a seven-man bomber crew returning to base after operations.
It will be built in the north west corner of Green Park, adjacent to Piccadilly.
The lead contractor is Gilbert-Ash NI Limited, a Northern Ireland-based building and civil engineering contractor which operates throughout the UK.
The stonework contractor is S McConnell and Sons, who have used their stone expertise to create an impressive portfolio of showpieces around the world.
The news that construction will now begin on the memorial follows a three-year campaign to create it, with significant contributions to the Memorial Campaign having been made by the general public in the UK and worldwide.
Minister for Defence Personnel, Welfare and Veterans, Andrew Robathan, welcomed the news, saying:
I am delighted to note that the London-based memorial to commemorate the brave servicemen of Bomber Command is making such progress. I am very much looking forward to seeing this unveiled as a well-deserved tribute to the aircrew who sacrificed so much.
Mark Camley, Chief Executive of The Royal Parks, commented:
The Royal Parks are at the heart of our country's ceremonial life and this commemoration of Bomber Command in Green Park will be welcomed by many across the world as a fitting tribute to those who fought in the skies for our freedom.
Fundraising Committee Head, Jim Dooley, from the 1970s band The Dooleys, said:
Words can't begin to describe how I feel about work finally starting on a memorial that will recognise the bravery and sacrifice of the airmen who lay down their lives for our freedom.

Our fundraising efforts will continue now in support of the long-term upkeep of the memorial and the legacy of Bomber Command's contribution.
Published 19 August 2011