Bomber Command Memorial foundation stone laid
The memorial, which is due to be completed in 2012 ahead of the Queen's Jubilee celebrations, has been designed by architect Liam O'Connor and…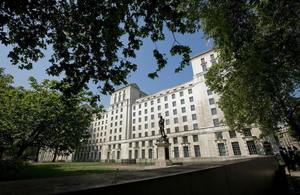 The memorial, which is due to be completed in 2012 ahead of the Queen's Jubilee celebrations, has been designed by architect Liam O'Connor and will feature as its centerpiece a nine-foot-high (2.7m)bronze sculpture by Philip Jackson.
Bomber Command veterans were joined at the foundation stone-laying ceremony by the Duke of Gloucester and Marshal of the Royal Air Force Sir Michael Beetham, himself a wartime Lancaster pilot and the President of the Bomber Command Association.
To mark the occasion a service was conducted by the Venerable (Air Vice-Marshal) Ray Pentland, Chaplain-in-Chief of the RAF, and included a reading by Chief of the Air Staff, Air Chief Marshal Sir Stephen Dalton.
The service ended with a spectacular flypast by the Battle of Britain Memorial Flight Lancaster bomber aircraft.
During a reception following the ceremony, Sir Michael Beetham thanked the donors and others for their support:
All of you have played your part in one form or another as benefactors, fundraisers or organisers. I thank you," he said.
President of the Heritage Foundation, Robin Gibb, who has been spearheading the Bomber Command Memorial Campaign for the last three years, said:
I am elated that we have come this far on what was rather a rocky road to begin with, especially for the veterans, the families of those who lost their lives.
This memorial will be a great example to young people, showing that democracy cannot be taken for granted. We have young men out in the world defending our freedom and we must show the world that we recognise them and respect them.
Entrepreneurs and philanthropists John Caudwell and Lord Ashcroft both have made major donations to the Memorial Fund.
Mr Caudwell said:
It is so vitally important to put this memorial up before it is too late for the remaining veterans to appreciate that this has been in the honour of their dead friends who served this country so well.
Minister for Defence Personnel, Welfare and Veterans, Andrew Robathan, and Councillor Alan Bradley, Lord Mayor Locum Tenens, also attended the ceremony.
Other guests included Lord Craig representing the RAF Benevolent Fund, which will take over eventual ownership of the memorial.
Members of the public from the UK and overseas contributed to the appeal to create the memorial and have given both small and large donations to help make it a reality.
The memorial will commemorate the 55,573 Bomber Command airmen who were killed during the Second World War.
Published 5 May 2011