Bomb disposal specialist wins hero award
Royal Logistic Corps Ammunition Technical Warrant Officer Class 2 Iain Martin defused 12 IEDs ranging in size from five to 15kg which were targeted…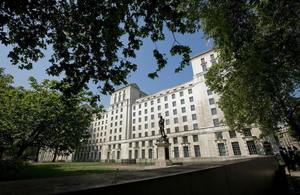 Royal Logistic Corps Ammunition Technical Warrant Officer Class 2 Iain Martin defused 12 IEDs ranging in size from five to 15kg which were targeted at both vehicles and troops, while he was deployed to Afghanistan earlier this year.
His actions resulted in the greatest number of IEDs to have been found and removed on any search on Operation HERRICK 13 during the Counter-IED team's high-risk clearance operation in the Gereshk area of Helmand province.
The IEDs were all pressure-plate initiated and located within 300 metres of each other on a route known as the Bandi Barq road.
At the Scottish Daily Record newspaper's prestigious 'Our Heroes' awards ceremony, WO2 Martin, from Edinburgh, said:
I don't do anything unless I am backed up with a team. This award goes to them too.
He received his award from sponsor Lieutenant General Sir Alistair Irwin, President of the Royal British Legion Scotland, and Ultimo lingerie creator Michelle Mone. Lieutenant General Irwin said:
He is a credit to the Armed Forces.
Commenting on his tour of duty, WO2 Martin said:
There was a huge variety of IEDs, all within a short distance, and they represented a real challenge for the team. Our reward came when we had finished and an Afghan family came up onto the road with their herd of goats, looking around like they hadn't trodden on the land in years.

The local people had confidence in us and our work to improve their lives and that was a great feeling.
Lieutenant Colonel Mark Davis, Royal Logistic Corps, Commanding Officer of the Counter-IED Task Force, said:
The commitment, skill and bravery of all my teams never fail to amaze me. Day after day they were deployed to dangerous areas, searching for IEDs and making them safe.
WO2 Martin is a member of the Edinburgh Troop of 11 EOD (Explosive Ordnance Disposal) Regiment.
The gala awards ceremony was held at the Hilton Hotel in Glasgow on 13 May 2011.
Published 19 May 2011