Bomb disposal pair clear Taliban IED factory
Two members of the Counter-Improvised Explosive Device Task Force (C-IED TF) have spent two full days making safe an IED factory found by British soldiers in the Nahr-e Saraj area of Helmand province.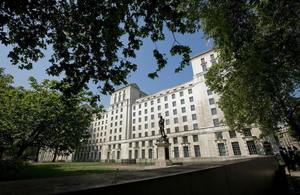 The compound, uncovered by members of 1st Battalion The Rifles (1 RIFLES), contained enough components and equipment to make over 80 devices.
Captain Nick Welby-Everard Torbet, from 521 Squadron, 11 Explosive Ordnance Disposal Regiment, Royal Logistic Corps (RLC), and Corporal Ed Williams, from 22 Headquarters and Support Squadron, 101 Engineer Regiment (Explosive Ordnance Disposal), Corps of Royal Engineers (RE), were part of a four-man team called to search the compound, make safe any devices, and help the soldiers of 1 RIFLES collect any evidence the bomb makers may have left.
The weapons cache included:
• 5 x 5kg main charges
• 2 x 10kg main charges
• 56 detonators
• 36 ready-made pressure plates
• 51 partially-constructed pressure plates
• 24 batteries
• unexploded ordnance for use in IEDS.
Capt Welby-Everard Torbet, aged 28 from Guildford, is the team commander, and works hand-in-hand with his Number 2, Cpl Williams. Since arriving in Helmand, almost three months ago, the two men have deployed to various parts of the UK's area of operations to support ground companies requiring assistance from the bomb disposal experts.
Often the pair can be out on patrol for up to 36 hours, carrying out their high pressure jobs in temperatures above 50 degrees Celsius. Capt Welby-Everard Torbet decides on the best course of action, depending on the situation, and 23-year-old Cpl Williams, from Chelmsford, is responsible for operating the specialist equipment used to disarm the devices, such as Dragon Runner bomb disposal robot.
Capt Welby-Everard Torbet said their most recent operation was one of the biggest they have been involved in:
Some of the devices were very carefully hidden," he said. "Finding them was long and exhausting work because we have to be so meticulous and thorough. Despite being tired and sweating from the heat, there is no margin for error - we can't rush or skip through or it could be fatal. So, as well as being physically tired, a big, long job like this can be mentally draining too.
After two long days of work clearing the compound, the pair focused their attention on setting up controlled explosions to safely dispose of the material they had found:
As well as removing the danger, we also want to make sure we remove the chance that the insurgents come back and try to make use of any of the component parts," explained Cpl Williams. "If we can, we take it away to do analysis, but the rest of it is destroyed in a safe, controlled way. It is hard work but rewarding to know that you are making a difference.
As well as dealing with numerous IEDs, Capt Welby-Everard Torbet and his team are also training the Afghan National Army in bomb disposal techniques to help them develop their own specialist capability.
Capt Welby-Everard Torbet said:
The Afghans are very professional soldiers and during the time that we have been in Helmand, their skills have improved significantly. Compared to the last time I was in Afghanistan a few years ago, the difference in the ANSF is really noticeable. Locals here are also more confident in their own security forces and their ability to provide security. Things really are improving here.
Cpl Williams said:
It's important that they [the Afghan National Security Forces] learn the skills needed to deal with IEDs because it's likely the devices will continue to pose a threat. A lot of the soldiers are really eager to do well and the most difficult thing is teaching them patience - it really is a virtue in this job and they need to realise why it's a case of more haste, less speed. But they're learning and more importantly they want to learn so that helps.
Capt Welby-Everard Torbet and Cpl Williams are now halfway through their six-month tour. At the end of Operation HERRICK 14, they will return to their units in the UK - Capt Welby-Everard Torbet to Didcot, and Cpl Williams to Wimbish - and will then take a period of leave to spend with families and friends.
Cpl Williams said:
I've served in Iraq but this is my first tour of Afghanistan and I've learnt a lot - it's been a real experience. I am looking forward to returning to the UK and passing on the knowledge of what I've seen and been involved in to the other soldiers in the Regiment - many of who will be coming out here themselves in the near future.
Published 25 July 2011