Bomb disposal experts honoured by the Queen
Staff Sergeant Kim Hughes and the family of the late Captain Daniel Shepherd received gallantry medals from Her Majesty The Queen at Buckingham Palace, London, yesterday, Wednesday 9 June 2010.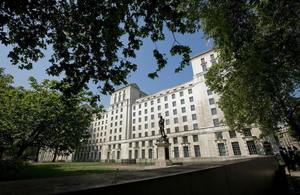 Bomb disposal expert Staff Sergeant Hughes, from the Royal Logistic Corps, was awarded the George Cross for his actions in Helmand province in August 2009 which were described in his citation as 'the single most outstanding act of explosive ordnance disposal ever recorded in Afghanistan'.
The George Cross ranks alongside the Victoria Cross as one of the nation's highest awards for gallantry. It is awarded for 'acts of the greatest heroism or of the most conspicuous courage in circumstances of extreme danger'.
Staff Sergeant Hughes was deployed to Helmand province as part of 19 Light Brigade between March and November 2009.
On 16 August 2009 Staff Sergeant Hughes and his team were called in to extract casualties after the 2nd Battalion The Rifles Battle Group were caught in an IED minefield on a route south west of Sangin.
Without specialist protective clothing in order to save time, Staff Sergeant Hughes set about clearing a path to the injured, manually disabling several IEDs. See Related News to read more about Staff Sergeant Hughes' actions on that day.
The award of the George Cross to Staff Sergeant Hughes and his fallen colleague the late Staff Sergeant Olaf Schmid was announced in March.
On receiving the award yesterday from the Queen, Staff Sergeant Hughes said:
I accept it on behalf of all the other operators in Afghanistan. When you do your training you don't think you'll get recognition like this - we're just out there doing our job, to get this is outstanding.
My team happened to be out on patrol on that day, it could have been another team, and we were asked to help extract the fallen and the soldiers.

Days like today bring it back, I do think about it and it's one of those things I will always remember.
Staff Sergeant Hughes said that the Queen asked him about the day he has been honoured for and what he was thinking at the time he was defusing the devices and also asked him if the Army was able to get more bomb disposal experts out to Afghanistan.
He said he replied by telling the Queen he was now employed as an instructor training future experts.
Staff Sergeant Hughes was friends with Staff Sergeant Olaf Schmid, whose widow Christina Schmid was presented with a George Cross, awarded posthumously to her husband, by the Queen last week.
Staff Sergeant Hughes paid tribute to his friend, saying:
I was already back in the UK when he died - Oz was a top bloke.
Bomb disposal expert Captain Daniel Shepherd from 11 Explosive Ordnance Disposal Regiment, Royal Logistic Corps, was also posthumously honoured yesterday by the Queen who presented his family with the George Medal.
Captain Shepherd, who was killed in July 2009, was awarded the George Medal for defusing 13 Taliban bombs by hand in 36 hours without a protective suit, disposal robot or electronic equipment.
His widow Kerry, father and mother David and Judith Shepherd, and other close relatives received the award from the Queen privately in Buckingham Palace's state dining room before yesterday's main investiture ceremony.
After the presentation, Mr Shepherd said:
As Daniel's proud father and on behalf of his family we are extremely honoured that his bravery in Afghanistan has been recognised with the George Medal. Our only wish would be that he could be here to collect it himself.

And let's not forget those that have been injured and those brave men and women who continue to serve.
Captain Shepherd's citation read:
Operating without the benefit of a remote-controlled vehicle, a protective suit or specialist electronic countermeasures equipment, Captain Shepherd relied on his technical expertise and completed over 20 manual approaches and countless fingertip searches to deal with 13 victim-operated devices in 36 hours of unbroken activity.

During this time he was under sporadic enemy fire and used only manual clearance means. He was an inspiration to his team; his personal actions directly and demonstrably saved the lives of innumerable Afghans, coalition and British forces.
Published 10 June 2010