Bob Neill sees Olympic preparations in Weymouth
Olympic Legacy minister Bob Neill has visited Weymouth and Portland to see the improvements the area is benefitting from thanks to the 2012 …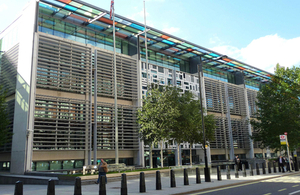 Olympic Legacy minister Bob Neill has visited Weymouth and Portland to see the improvements the area is benefitting from thanks to the 2012 Olympic Games.
The minister was given a tour of the Olympic sailing site on the first day of its two-week regatta event, which is being held as a practice-run for next year's games. He heard that the Games were strengthening the area's reputation as a world-class sailing venue and how they were bringing new business investment, infrastructure, homes and jobs into the area.
Mr Neill said:
This government is very keen there is tangible Olympic legacy for people, their family and friends for the future. The Games will re-inforce Weymouth and Portland as a premier sailing venue, the Olympic Village will significantly boost the amount of affordable housing when it's converted and the super-fast broadband will also be important for attracting business.
He also met with Dorset Fire and Rescue service in his role as Fire and Resilience minister, to find out how they were preparing for the Games. He saw Weymouth's new Community Fire Station, which offers space for the community to use alongside its fire prevention services. The minister said that the mixed-use station was an excellent way for the Service to make the local community more aware of fire risk.
He said:
This is a fantastic example of the Fire and Rescue Service putting itself at the heart of its local community, providing local people with an up-to-date facility for their own use, from education and health groups to social events. This is a really impressive resource of which the people of Weymouth can be justifiably proud.

We continue to be committed to improving frontline services, and investing in 21st Century fire stations in the right locations. Weymouth's new facility will both help save lives and deliver a local service that meets the needs of the community. Dorset Fire and Rescue Service is clearly punching well above its weight
Published 3 August 2011