Bob Neill sees new face of East London
Local Government Minister Bob Neill visits regeneration projects in London.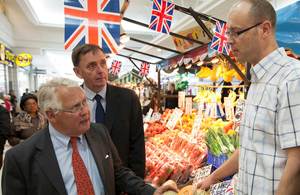 Bob Neill saw first hand the new face of East London thanks to government investment in regeneration projects when he visited Woolwich, Stratford and Leyton.
Attending the topping out of the multimillion-pound Spenhill scheme in Woolwich, the minister was encouraged to see now the development is providing a lasting legacy for the community, bringing homes and retail to the area. The minister was delighted to award prizes to local school children whose art work proudly decorates the worksite hoardings.
Whilst visiting Woolwich, Mr Neill said:
I'm delighted to see the regeneration of Woolwich first hand and congratulate those involved on all their hard work. This scheme is providing jobs for local workers, much-needed homes and a wonderful new retail centre. 2012 is going to be a landmark year for this area of London and the government is committed to ensuring areas like Woolwich develop a lasting legacy.
Tony Fletcher, Regional Corporate Affairs Manager, Tesco, said:
Woolwich Central will deliver a range of benefits to the area including much-needed new homes, jobs for local people and a major contribution to the local shopping offer. Work on site is progressing apace and we're delighted to be on track to deliver the first 259 homes by the end of 2013. We are pleased to be making this important contribution to the renaissance of Woolwich town centre at this exciting time when the area is benefiting from a range of improvements in the run up to the Olympics.
Mr Neill also travelled to Stratford town centre, close to the Olympic Park, to see how government investment is improving the local environment. The Department for Communities and Local Government has contributed towards £15.9 million of public realm funding that has seen new paving, lighting, street furniture and major new civic art work revive the area. The funding highlights that whilst the Olympic Park receives many millions in investments it is important that the surrounding areas also benefit from a lasting legacy of regeneration and investment.
In Leyton, Waltham Forest, the Minister met local shop owners and saw how £5 million of public realm funding is improving the civic environment and inspiring local shops to bring a new lease of life into the High Road. Public realm funding is enabling the local community to build on the existing strengths of local high streets and town centres to support economic vitality during and after the Olympic Games.
Photos of the visit are available from the DCLG Flickr channel
Published 13 June 2012