Bob Neill hails the Great British seaside at international coastal conference
First international conference for coastal communities.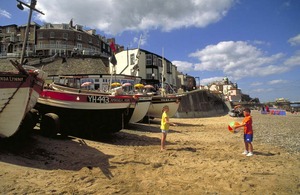 Communities Minister Bob Neill spoke about the enormous economic potential of the Great British seaside in a speech at the conference.
Held in the seaside setting of Clacton, the conference discussed how seaside towns can become economic hubs and shared success stories from as far a field as France, Italy, and Malta.
The event was hosted by Tendring District Council, Essex County Council and the Council of Europe.
Communities Minister Bob Neill said:
"Event's like this are an important way to highlight to unique role coastal areas and seaside towns play in Britain's history, culture and economy.
"Come rain or shine we all have fond memories of trips to the Great British seaside, but they are more than holiday destinations we also need to ensure they are great places to live and work. Many seaside towns are showing how they can become year round places of business given the opportunity.
"The government is committed to rebalancing local economies through local enterprise partnerships and small business tax breaks as well as by putting local people back in charge of their own economic growth through neighbourhood plans and community incentives like the New Homes Bonus."
Neil Stock, Leader of Tendring District Council, said:
"Businesses are willing to invest if they get the right messages from the public sector. It is up us to create the right environment for them to operate and draw in the money which will lead to more jobs and regeneration in Tendring."
Communities back in control
Putting local authorities and communities back in charge and giving them the freedom to drive their own economic development and growth is a key priority for the government:
through the Localism Bill, the government is devolving greater powers to councils and neighbourhoods, so local communities are able to shape their own future
the government has invited local business and local councils to come together and take charge of their local economy and establish local enterprise partnerships. The new network of 35 local enterprise partnerships covers 95% of all businesses and 96% of the population in England
Kent, Greater Essex and East Sussex local enterprise partnerships, who attended the conference, are already working together and have set up a new group to look at some of the issues facing the coastal towns in their area
to further encourage investment across the country the government is creating 21 new Enterprise Zones to be developed within the local enterprise partnerships. Businesses in Enterprise Zones will benefit from superfast broadband, lower business tax rates, low levels of regulation and planning controls, and reduced business rates
Published 24 June 2011