Bob Ainsworth sends message to Defence staff
Bob Ainsworth has stepped down as Defence Secretary and issued the following statement: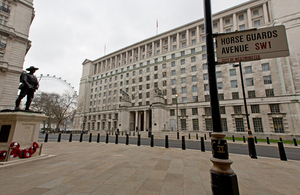 It has been a huge privilege to serve in this Department since 2007, first as the Armed Forces Minister and then as the Secretary of State. This has been the most demanding, and most rewarding, job of my life.
It has been a tough three years for Defence. The challenge in Afghanistan has been significant and we have had to make some difficult decisions to help bring the forward programme back into balance.
I am very proud of what we have achieved together, not least the new approach to inquests, the Service Personnel Command Paper, the Green Paper and charting the way forward with acquisition reform.
Of course, the greatest pleasure has been working closely with you - the men and women, both military and civilian, who have the vital role of keeping our country safe and secure.
I am deeply conscious of the sacrifices that are made by so many to achieve this, and without the support of family, friends and comrades it would be so much harder to meet the challenges we face. I am grateful for the support and understanding that the Defence community as a whole has shown during my time in office.
I leave at a time when we are making progress in Afghanistan - where there is often not enough public recognition of how much has been accomplished - and at the beginning of a defence review that will determine the shape of the Armed Forces for years to come. Both are challenges that I know you will meet with commitment and confidence.
I thank you for all your hard work and commitment, and wish you success for the future.
Published 12 May 2010