Press release
Boat angler rescued off Suffolk coast
An angler has been rescued after falling from a boat near Lowestoft.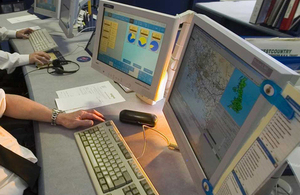 A boat angler has been rescued after falling overboard near Lowestoft.
He clung to the edge of the small vessel until the rescue services arrived.
Humber Coastguard received a call from the angler's fellow crewman around 8am today (20 February 2014) that a person was in the water.
The search and rescue helicopter from RAF Wattisham, Lowestoft RNLI Lifeboat and Coastguard Rescue Teams from Lowestoft and Gorleston were quickly scrambled. The casualty was airlifted to James Paget University Hospital and the other crewman was taken ashore by the lifeboat.
Bev Allen, Watch Manager at Humber Coastguard, said:
An angler fell into the water and couldn't get back into the boat, so clung on until rescue resources arrived.

Fortunately, the sea was calm at the time of the incident, but we strongly advise people to check weather and tides before they set out to ensure they can handle the conditions.
Maritime and Coastguard Agency press office
Press enquiries 020381 72222 (Monday to Friday, 9am-5pm)
Outside these hours, for emergency press enquiries only please dial the above number. You will hear a message giving an out of hours pager number.
Published 20 February 2014