World news story
Blur drummer on Japan's continued use of the death penalty
David Rowntree urges young Japanese to get informed and question why Japan is an exception to the global trend of abolition.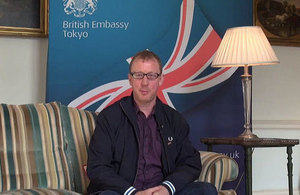 British band Blur was in Tokyo last week to perform two concerts for fans in Japan. David Rowntree, the band's drummer, is also a solicitor and political activist. In between the band's performances, David visited the British Embassy in Tokyo to record a video message on the death penalty in Japan – an issue close to his heart as a volunteer for a charity that campaigns to have the death penalty abolished around the world.
Speaking at the Embassy, David Rowntree urged Japanese viewers to inform themselves of the facts and experiences of other nations that have abolished the death penalty, ahead of a Japanese government survey later this year on Japanese public opinion towards its continued use:
I was very surprised to learn that Japan still had the death penalty. Japan is only one of two of the G8 countries that still have it. Many, many countries around the world have abolished it in the last 20 years. This year, Japanese people are going to have the opportunity to let their government know whether they want the death penalty to continue in Japan. Obviously, this is a matter of conscience for each individual person. I haven't come here to tell people what to do. But in my experience and in the experience of the charity I volunteer for, people are best able to make those decisions when they have all the facts.
Death Penalty in Japan: "a matter of conscience"
The UK opposes the use of the death penalty in all circumstances and the British government continues to urge partners around the world to join what is a clear global trend towards abolition. In his message, David Rowntree invites viewers to visit the "Death Penalty in Japan: some facts and questions" page on the British Embassy's website, where key facts and thought provoking questions on the death penalty in Japan are available in both English and Japanese. These include some key findings from a comprehensive Death Penalty in Japan report that was published last year, also available at this link.
In the same week, an event was held at the House of Lords in London to launch Dr Mai Sato's book, "The Death Penalty in Japan: Will the public tolerate abolition?". A research fellow at the University of Oxford and University of London, Dr Mai Sato examines in her book the factors underlining the presumed support and public attitudes towards the death penalty in Japan.
Further information
Read about the UK's work to abolish the death penalty around the world
Published 20 January 2014