Blue Peter takes to the skies with the Navy
The visit, which took place earlier this week, followed a promise last September when 771 Naval Air Squadron helped the children's show launch…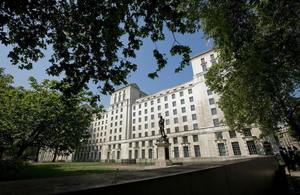 The visit, which took place earlier this week, followed a promise last September when 771 Naval Air Squadron helped the children's show launch their new studios at Salford's Media City, breaking off from a long-range training exercise to deliver the 28-year-old presenter in style.
That brief glimpse into the world of the red and grey Sea Kings prompted the Blue Peter team to produce a more detailed feature on the work of Search and Rescue helicopters.
Six months later, Helen and her camera crew travelled to the Cornish air station, with the presenter trying on an aircrewman's role for size.
Helen is no stranger to challenges, having paddled a kayak the 2,000-mile (3,220-kilometre) length of the Amazon River, tightrope walked across Battersea Power Station, and cycled and skied to the South Pole.
Fully kitted out in flying overalls, squadron badges, helmet and life jacket, Helen was taught the basics of flying and navigation, and the instructors had enough confidence in Helen to take her out in on a training mission.
The four-man crew and Helen were scrambled to airlift a casualty who had been pulled out of the water by the RNLI (Royal National Lifeboat Institution).
When the Royal Navy team arrived on scene, the Blue Peter presenter was winched down on to the lifeboat where she was 'tasked' to recover the 'casualty' and help the crew to 'rescue' the individual by winching him up into the helicopter.
Helen was a great student and a fast learner," said observer Lieutenant Commander Rob 'Smoke' Suckling. "She took the debrief points on board from the first day, and I was happy for her to be supervised carrying out a boat winch on day two.

I think she got a real insight into the technical aspects of the winchman's job, and experienced a little of it first-hand.
You can see how Helen fares when Blue Peter is broadcast at 1745hrs (BST) on Thursday 12 April 2012 on CBBC - or at 1630hrs on Friday 13 April 2012 when the show is repeated on BBC1.
We need your help! We are trying out designs for a new single website for all of government and we'd love your feedback. Please visit the 'Government beta site' by clicking on the link under Related Links.
Published 30 March 2012