Blogs of war - stories from the front line
War reporting has changed. These days, we can learn about life and death on the front line from blogs. Lorraine McBride explores the phenomenon.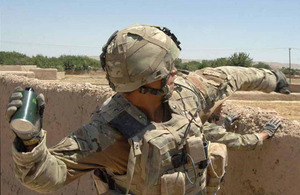 Blogging is a communications phenomenon and there are an estimated 200 million people out there in cyberspace who regularly record their thoughts and observations online for others to read and comment on.
Among them is an ever-growing army of military men and women keen to write about their world, sharing their views on everything from Army food, to the fears and satisfaction of serving in a war zone.
It was the appetite of British soldiers, sailors, marines and airmen to share their operational experiences with the rest of the world which prompted the establishment of officially approved bloggers during Operation HERRICK 11 in Autumn 2009.
There were already some unofficial blogs being published by troops in Afghanistan, and there was the UK Forces Afghanistan blog, run by the Joint Media Operations Centre in Helmand. But there was no central site where people could access a range of regular military blogs and build up a picture of life in a war zone.
In July this year, British troops in Afghanistan launched their first mass blogging initiative, with scores of men and women posting from the front line on Army, Navy and RAF websites.
Some of the blogs include video or podcasts, which give an even more vivid insight into life on operations.
Bloggers cover a wide range of ranks, from privates right up to senior commanders. They talk about their experiences of combat, of course, but they also describe living conditions, impressions of Afghanistan, work to help local communities and their relationship with the locals.
The aim is to have many more troops writing on Service sites, all linked, and with the cream of the blogs showcased on compilation sites:
There is still a lot to do in terms of expansion but, just a few months into this inititiative, we have a fascinating insight into what men and women on the ground are thinking, and the sheer scale of their challenges and achievements," said Lieutenant Colonel James Carr-Smith, spokesman for Task Force Helmand during HERRICK 12.
Pippa Norris heads MOD's digital media strategy, planning and co-ordinating the Department's use of social media and blogging.
She believes there are hundreds of military bloggers itching to tell their stories:
We need to seek out talent," said Pippa. "If people want to step forward, we encourage it. These people are our raw talent, so it is right that they become our ambassadors and tell their stories.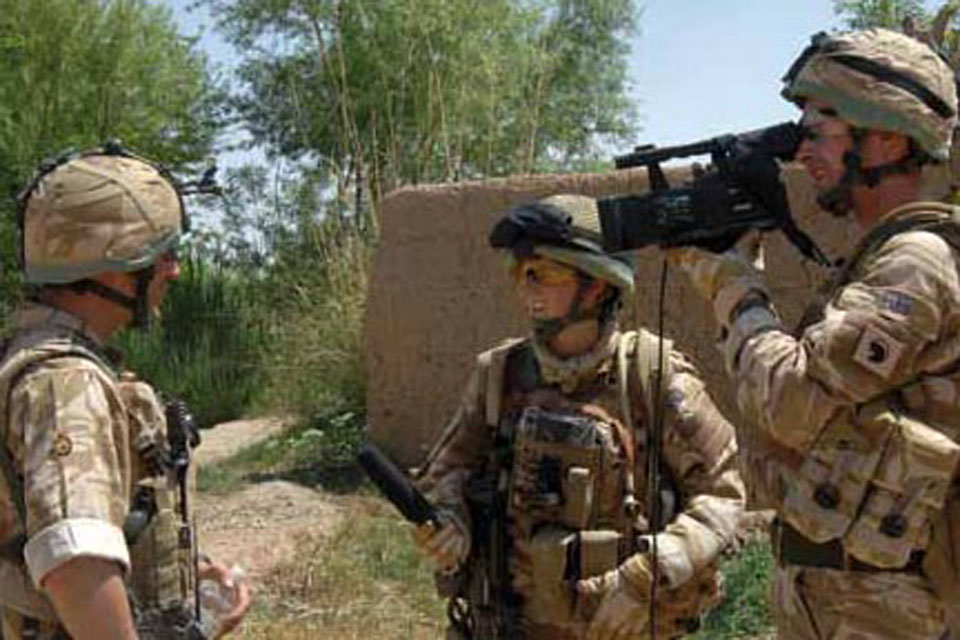 But just who is hanging on their every word?
Those who read blogs cover all age groups, across every social background and nationality," said Pippa. "It has such wide appeal, but then we have one of the most compelling stories of the decade.
One of the biggest challenges of blogging from Afghanistan has been the shortage of time. Working weeks of 18-hour days in extremely harsh conditions mean there may be few opportunities to post.
The UK's military men and women who share their views with the world give the closest possible insight into what the coalition and the Afghans themselves are trying to achieve in Afghanistan, and what this means for many thousands of dedicated troops.
As Pippa says, this can be a riveting story. It is not surprising then that in the United States some military bloggers have become media stars, sometimes landing lucrative book deals.
But the MOD and the Armed Forces do not encourage a celebrity culture. Approved uniformed bloggers have a serious job to do, which is related to the success of the mission.
Infantrymen, medics, doctors, drivers, firemen, Afghan National Army (ANA) mentors and even commanding officers; all have told their stories in blogs over the past few months. As they sign off for the last time (at least for this tour) and head home, new men and women arrive to take their place, both in the operational theatre and in the blogosphere.
Blog data
The MOD authorised military bloggers when it recognised blogging as a natural evolution in communications for the Facebook generation:
blogging from Op HERRICK started in September 2009 when the MOD published online engagement guidance, a framework of dos-and-don'ts for bloggers
anyone wanting to start their own blog from theatre must read the MOD's web rules that include information about operational security
all military bloggers must seek permission through their chain of command and media units. All blogs require security clearance
Edited extracts from British blogs from Afghanistan
The officer
Turning 33 in Afghanistan - Captain Jeremy Hahn writes about birthday celebrations, or lack of them:
Today is my birthday, and it is the first time I have celebrated with a good day's work. The usual modus operandi of having champagne poured down my neck, forgetting to say 'when' and over-indulging, was replaced by an ice cream and an ungentlemanly amount of sweat.
Among many kind emails was one from an old friend in Brighton hoping 'that you get totally messed up', surely the strangest greeting to send a mate in a war zone.
Someone with a much greater gift for memorable writing than I observed that being on operations is 99 per cent boredom, punctuated by one per cent extreme violence.
It is boredom that I wish to turn to. Guarding against complacency is one of the hardest tasks of remaining professional on operations. It can be difficult to keep morale high while staring into the abyss of monotony, and how you occupy yourself outside patrols and other bits of the daily workload defines how you deal with the unglamorous side of being away.
On the whole it has been a very quiet week in Kandahar, which has meant time has dragged, but we should be thankful that the operation is now starting to yield a positive outcome for the people of this city.
The camerawoman
Beckham mania - Captain Jo Timmerman is the officer commanding a Combat Camera Team. Her team collects and packages stories about British troops for the media:
Back in Bastion, Beckham mania had broken out. Becks is such a down-to-earth guy with the patience of a saint.
He was so good, meeting and talking with the troops, and seemed humbled by the work of the Forces.
We followed his 48-hour visit from start to finish and were run off our feet trying to process and distribute material (of course, when you need IT to work, it fails in style).
That said, we got photos in all the Sunday papers, which was a great morale boost. I also got to interview him, which will likely be one of the high points of my career. Yes, my friends back home were jealous. War correspondent to showbiz reporter in one easy step.
The surgeon
A tricky subject - in January 2009 Surgeon Lieutenant Dr Iain Wood joined 40 Commando Royal Marines:
When a man dies, particularly a fellow Marine, it does hit hard. A spectrum of emotion flashes through my soul - despair, anger, frustration, futility and grief.
A perfectly natural response is to cross-examine the exact circumstances that resulted in the death of your friend or colleague. I am not alone questioning each action along the way, particularly after each fatality. But I always carry out a team debrief after each trauma case, reviewing verbal chronology, description of injuries, treatments on patient arrival, our own interventions and my impressions.
It then becomes a 'free fire zone' with everyone chipping in. It is unusual to receive just one casualty and often I am the only one with oversight of what's happening with all the patients.
It is not unusual for medics to spend 30 minutes working on one patient but to have no idea what has been going on with a different casualty on a stretcher two feet away.
The press officer
Adventures of a unit press officer on tour - Lieutenant James Wakeham on the challenges of feeding the media with stories:
Recently, as I sat in an Afghan compound eating sun-warmed Baxters tomato soup with small arms fire snapping overhead, I couldn't help but think back to the strange road that had led to this current situation.
When late last year I was chosen from a cast of literally… well… one to take up the post of unit press officer for the 4 Regiment Royal Artillery deployment to Afghanistan, I was devastated.
I had joined the Army to soldier and suddenly I was condemned to fighting the war from an office.
Leaving the Adjutant's office I briefly felt sorry for myself before realising that I would still be going on ops, and that the job looked like it presented some serious opportunities to cut one's own detail.
That cheered me greatly. A short media course at Blandford later and it was time to rebuild the regimental ArmyNET website. The great thing about starting from scratch is that you can make it look exactly how you want, and after a couple of weeks in the Learning Centre, who kindly donated considerable web access to 'The War Effort', our website was none too shoddy, in fact you could even say it was good.
Next on our pre-deployment list was a Facebook group so we could pass photos and updates to family and friends back home. With more than 1,600 members, '4 Regt RA - A safe tour of Afghanistan' is a great tool to help reduce the distance between home and our soldiers.
We also revamped our www.army.mod.uk site and lavished loving attention on the Wikipedia entry for 4 Regiment Royal Artillery. With 'new media' being an ongoing project, it was time to turn attention to gathering stories from the boys. This was where my job became fun. We have produced around 70 stories on local boys. The Batteries are providing photos and articles, which are edited, cleared and distributed.
I have been tasked to conduct hosting duties, which brings me back to sitting in a compound and eating soup while being shot at, notably during the first ANA planned and led operation. The two-day op gave me a real insight into what our guys on the ground are facing. It was a privilege to help get their achievements to folks back home.
The supplier
Cloudy but no rain - Trooper Jonny Ritchie serves with 3rd Troop, B Squadron, Royal Dragoon Guards:
I don't work for the Met Office but temperatures definitely seem to be dropping slightly, making it easier to sleep. During the week we even had two days of intermittent cloud, though sadly without rain. Amazing wanting rain - if it was the UK I'd be begging the weather to stay clear. The week's workload was steady and efficient and we didn't have to dip into our rations once, as we made it back for our meals all week.
Most of our runs were to escort trucks with mail, essential equipment and food to various patrol bases and checkpoints. We also moved passengers in our Mastiffs to the patrol bases. In our free time, we caught up with maintenance tasks. The Mastiffs have excelled. Vehicles are used with very little break between tasks and when they do break down it's not long until we have them up and running.
Being away before in Iraq, I have noticed the hardest point of a tour is passing the halfway mark, but being not quite close enough to the end to plan ahead. To everyone at home that has/is posting out packages, emails, blueys or letters, you probably underestimate the power that these gestures have on the lads. Even a short letter can lift someone from feeling a little down to smiling.
This article is taken from the November 2010 issue of Defence Focus - the magazine for everyone in Defence.
Published 3 November 2010