News story
Blenheim Palace Bronzes may leave UK
A pair of bronze sculptures by Massimiliano Soldani-Benzi have had temporary export bars placed on them.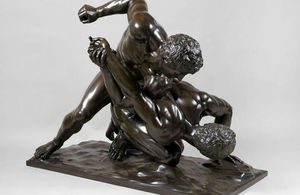 A pair of bronze sculptures by Massimiliano Soldani-Benzi, The Wrestlers and The Knife Grinder, have had temporary export bars placed on them to provide a last chance to keep them in the UK. Unless £4,590,000 can be raised in the time permitted, the sculptures, which have been housed at Blenheim Palace since 1711, face being exported overseas.
The bronzes were made for John Churchill, 1st Duke of Marlborough (1650-1722) who in 1709, as victor in the War of the Spanish Succession and a Prince of the Holy Roman Empire, was one of the most famous and important men in Europe. They were first displayed at Blenheim Palace, Oxfordshire late 1711 or early 1712 and have remained there since, although their exact locations at Blenheim have changed over the centuries.
Culture Minister Ed Vaizey took the decision to defer granting an export licence for the sculptures following a recommendation by the Reviewing Committee on the Export of Works of Art and Objects of Cultural Interest (RCEWA), administered by Arts Council England. The RCEWA made their recommendation on the grounds they are of outstanding aesthetic importance and of outstanding significance for the study of the history of sculpture, Massimiliano Soldani-Benzi and the development of British aristocratic taste.
The sculptures are both replicas of ancient marble statues which were displayed, then as now, in the celebrated Tribuna of the Uffizi, Florence. These are exceptionally fine monumental bronzes, based on, but adapting, their classical sources. The precision of modelling, and the chiselling of the hands and facial features, are characteristic of the artist's style, and in translating marble into bronze, Soldani-Benzi effectively created new works of art.
Soldani was one of the most admired sculptors of his day, and his works were particularly prized by British collectors and connoisseurs. These bronzes are especially interesting pieces, in that they are fully documented and have an unbroken provenance. This means that the artist's techniques can be studied and understood within the context of his other works. Additionally, the links with the Churchill family and Blenheim mean that these sculptures have a specific historical resonance.
Culture Minister Ed Vaizey said:
Bronzes of this scale and type in UK collections are a rarity, and it would be a terrible loss if these superb examples of Soldani's craftsmanship were to leave UK shores. I hope the extra time granted by the export bar I'm imposing allows a UK buyer to come forward.
The decision on the export licence application for the sculptures will be deferred for a period ending on 18 March 2014 inclusive. This period may be extended until 18 July 2014 inclusive if a serious intention to raise funds to purchase the sculptures is made at the recommended price of £4,590,000 (including VAT on the agent's commission).
Further information
Published 19 December 2013