Bittersweet' return from Sangin for Royal Marines
The first Royal Marines from 40 Commando returned home yesterday from a six-month deployment to Sangin in Helmand province, considered one of the most dangerous places for foreign troops in Afghanistan.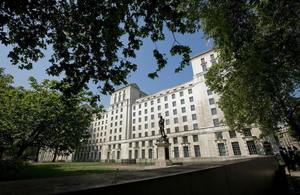 Around 600 Marines from 40 Commando, part of 3 Commando Brigade, deployed to Sangin in April 2010 under the command of 4th Mechanized Brigade on Operation HERRICK 12.
They are the last British unit to serve in the area, having handed over authority to US forces in the last few weeks. See Related News for more on this.
The first of the Marines to return home were from the 114-strong Charlie Company. They arrived at their home base of Norton Manor Camp, near Taunton in Somerset, yesterday, Wednesday 6 October 2010, where they were greeted by more than 300 friends and family members.
The homecoming was described as a 'bittersweet' moment by officers who recognised that the joy of returning to friends and family was tempered by the loss the unit had experienced over the tour.
Major Duncan Forbes, Officer Commanding Charlie Company, said:
It's a bittersweet day being back here; 21 people from the battle group were killed and 14 of them were Royal Marines.

Their sacrifice was not made in vain; they did an amazing job every day, showing bravery and leadership, which is humbling for us as their leaders to look to.

It's a sad day for those families who have not got their husbands coming back.
During their deployment 40 Commando worked in partnership with the Afghan National Security Forces to disrupt insurgent operations.
Speaking last month as the Marines started handing over authority for Sangin to US forces, Lieutenant Colonel Paul James, Commanding Officer of 40 Commando Royal Marines, said:
It's been a hard fight for 40 Commando Royal Marines in Sangin, but we have achieved much. We have sought to protect the local people and have worked hard to support the Afghan National Security Forces.
Our partners in the ANA [Afghan National Army] and ANP [Afghan National Police] have improved tremendously. They have provided the security for the District Governor to spread the influence of the Afghan Government.

The bazaar itself, central to the economy of the area, is thriving and a much more bustling place than when we arrived with new shops opening all the time.

There is still work to do, and we are confident that our American partners will build on what we have achieved. We have lost brave Marines, but we will do them proud and return home with our heads held high.
British forces have been in Sangin, a key economic and transport hub, since 2006. Alongside the Afghan National Security Forces (ANSF), they have provided vital security for the local population on behalf of the Government of Afghanistan, enabling development and preventing the insurgency from using Sangin as a base from which to mount attacks across Helmand.
The handover of authority for Sangin to US forces allows UK forces to focus their efforts in central Helmand where they will continue to deliver effective counter-insurgency operations, working alongside the ANSF.
Published 7 October 2010