Press release
BIS appoints Gareth Davies as Director General for Business and Science
Gareth Davies has been appointed to the role of Director General for Business and Science, at the Department for Business, Innovation and Skills (BIS).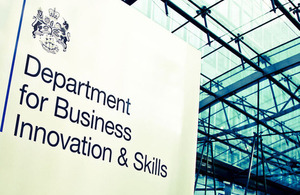 Gareth brings extensive valuable experience to the new role, which has been redesigned to better align with government priorities.
He was previously the Executive Director and Chief Economist in the Cabinet Office, responsible for civil society, innovation and analysis. He spent his early career in PricewaterhouseCoopers, specialising in asset sales, competition policy and investment appraisal.
Over the past decade he has worked in Downing Street as the Prime Minister's lead adviser on welfare reform, been Head of the Prime Minister's Strategy Unit and was a board member of the Department for Innovation, Universities and Skills.
Having been the interim Director General for Business and Science since September 2015, Gareth will continue to lead approximately 450 staff, delivering ministers' priorities to promote economic growth through research, innovation and transfer of knowledge, skills and ideas, as well as leading directorates with responsibility for business and enterprise.
BIS Permanent Secretary Martin Donnelly said:
I am delighted to announce the permanent appointment of Gareth Davies to the DG, Business and Science role. This follows a full open recruitment competition for this vital role, and will provide valuable continuity for the Business and Science area at this time of change, as well as enabling Gareth to continue his active role in the wider leadership of BIS.
Gareth said:
I'm very excited to have the opportunity to see through the major reforms we started over the past year, including establishing Research UK, ensuring the UK can benefit from the fourth industrial revolution, and transforming the department.
Notes to Editors
Gareth Davies has been interim Director General for Business and Science since September 2015. Prior to that, he was Director General, Knowledge and Innovation from February 2015.
Following an internal review, the DG Knowledge and Innovation role has been redesigned, and re-named as DG Business and Science to better align with government priorities. The Business and Science Group consists of 7 directorates, supported by a Finance and Corporate team. It now covers Innovation, Research Base, International Knowledge and Innovation, Advanced Manufacturing and Services, Energy, Materials and Agri-tech, Enterprise and Small Business policy, and the Office for Life Sciences
Gareth will be a member of the Executive and Departmental Boards and will have responsibility of delegated programme budgets of £6 billion resource and £1 billion capital, and an administration budget of over £130 million
Published 16 February 2016