World news story
Birding guides to extend Turks and Caicos Islands visitor season?
A series of new guides to bird-watching in TCI were unveiled at the new site of the TCI National Museum, Grace Bay, Providenciales.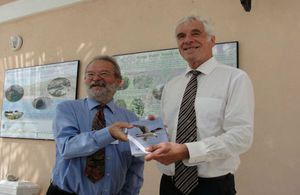 The guides are designed to help extend the TCI's tourism offer year round, especially on its less populated islands. They were jointly created by the UK Overseas Territories Conservation Forum (UKOTCF) and the TCI National Museum.
Within the series called Birding in Paradise, there is a different 48-60 page booklet for each of the TCI's family islands of Providenciales, Middle & North Caicos, South Caicos, Grand Turk and Salt Cay.
Each booklet is lavishly illustrated with colour photographs taken in TCI and contains descriptions of the birds, and where to find these and some other heritage features, supported by maps and other information.
Launching the booklets, His Excellency the Governor, Peter Beckingham, said:
Long-term livelihoods in TCI depend on its natural and historical assets and attracting visitors to experience these unique features. I welcome the work of the UKOTCF and the Turks & Caicos National Museum in providing the information which enables the TCI to better develop these opportunities.
The booklets' lead author and photographer, Dr Mike Pienkowski of UKOTCF said:
TCI is one of the best places in the world to view wetland birds, and one of the most important seabird breeding areas in the Caribbean. Amongst the land-birds, there are two sub-species, the Greater Antillean Bullfinch and Thick-billed Vireo, which occur only in TCI.
The number of people who take bird-watching holidays across the world is huge, and these people tend to spend their money directly in local communities. Many Caribbean countries tap into this market – which greatly extends traditional peak visitor seasons – by safeguarding the wildlife and the special places it needs to survive.
To begin to provide a basis for the provision of such vacations, we have produced the five new booklets which we are publishing this week. It is now up to local tourism providers and entrepreneurs to turn this opportunity into a business reality.
Patricia Saxton, Director of the Turks & Caicos National Museum, added,
I believe that the TCI has a terrific advantage through our unique selling points of wildlife that occur nowhere else in the world. Together with our unique history and culture, I think that this is an unbeatable tourism offering.
I would like to thank our partners at UKOTCF, who have given so much time over the past 17 years to help TCI rediscover and begin to better protect its outstanding natural heritage.
There are at least 1,747 species of animals and plants that are native to TCI; 16 of which are endemic.

This includes five species of reptiles, together with a further 12 endemic sub-species, some of which may be elevated to species level with further study.

There are possibly many more unique species amongst the less studied groups of animals and plants.
The booklets are on sale from several outlets throughout the TCI. In most cases, outlets will be selling their local booklets, but the full range will be available from the TCI National Museum on Grand Turk and its new facility on Providenciales, as well as the Unicorn Bookshop, Big Blue Unlimited, and the Regent Palms.
They are also available in an online to download for tablets and other devices on the UKOTCF website
Published 12 June 2014