World news story
Bioscience collaboration: Research for food, pharma & fuel
From 10 to 13 May Professor Douglas Kell, CEO of the BBSRC, visited Japan to explore opportunities for collaboration between the UK and Japan.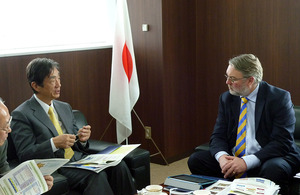 The Biotechnology and Biological Sciences Research Council (BBSRC) is one of seven Research Councils, which are the main public research funding bodies in the UK. Since 2004 the BBSRC has supported the Japan Partnering Awards, providing funding for British researchers to build relationships and pursue collaborative projects with organisations in Japan in fields such as stem cells, systems biology and bio nanoscience.
Biotechnology and the biological sciences are important to both the UK and Japan for supporting research in a broad range of areas, from medical science to bioenergy. Professor Kell and his colleagues held meetings with the Japan Society for the Promotion of Science (JSPS) and the Japan Science and Technology Agency (JST) to discuss the areas of research and development where the UK and Japan would benefit most from working together in the future.
Professor Kell also visited Ajinomoto, the food and chemical company, and Kyowa Hakko Kirin, the pharmaceutical company, to see firsthand examples of Japan's industrial biotechnology, in action. Ajinomoto is particularly famous for seasonings associated with umami (a basic taste distinct from sweet or savoury flavours), while Kyowa Hakko Kirin specialises in medicines to treat renal anaemia and the disorder neutrocytopenia. Both companies rely on extensive facilities for processes such as fermentation.
The visits gave the delegation an insight into how Japan is addressing the challenges of scaling up research into application, and how industrial biotechnology in Japan integrates disciplines and brings together skills from a range of areas. Professor Kell's blog on his visit to Japan can be found at BBSRC website.
The Science and Innovation Team at the British Embassy in Tokyo will be working with the BBSRC to explore a more detailed mission later in the year to build on Professor Kell's visit and develop closer links between the biological and biotechnology research communities in the UK and Japan.
Published 30 May 2013
Last updated 10 June 2013
+ show all updates
Added translation
First published.