Bill to boost growth and infrastructure goes before Parliament
New legislation to support the aspirations of hard working people by reducing the bureaucratic barriers that stop British businesses from creating…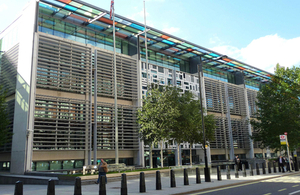 New legislation to support the aspirations of hard working people by reducing the bureaucratic barriers that stop British businesses from creating jobs has been introduced to Parliament today to support local jobs and local growth.
The new Growth and Infrastructure Bill will help the country compete on the global stage by setting out a comprehensive series of practical reforms to reduce confusing and overlapping red tape that delays and discourages business investment, new infrastructure and job creation.
The measures include:
Unlocking thousands of new jobs and billions of new investment in energy projects helping keep the country's lights on by allowing existing consents to be varied and releasing £160 million in new gas infrastructure;
Creating a new optional 'employee-owner' status for companies to offer, giving workers a financial stake in their firm's growth and success through tax-free shares;
Preventing unexpected hikes in business rates on local firms over the next five years. Tax stability is vital as business rates are the third biggest outgoing for firms;
Getting building going on stalled housing sites, by allowing the reconsideration of economically unviable 'Section 106' agreements. This could release some of the 75,000 affordable and private homes currently stalled. Unrealistic conditions currently mean no development, no regeneration and no community benefits;
Helping remove red tape which hinders superfast broadband being rolled out to local homes and businesses, especially in rural Britain facing a 'digital divide';
Cutting back the volume of paperwork which applicants have to submit with a planning application, which go over and above what is reasonably needed to properly inform decisions about the proposed development;
Stopping misuse of town and village green applications to undermine planned development, whilst protecting its use to safeguard cherished community spaces and ensure the protection of genuine town and village greens;
Implementing the recommendations from the 'Penfold' review to remove other over-lapping development consent regimes, where multiple permissions from different government agencies are required on top of planning permission; and
Speeding up the planning system for large scale business and commercial projects. Where developers choose the fast-track route decisions will be taken in twelve months from the start of examination. Existing requirements to consult local communities are retained.
Secretary of State for Communities and Local Government, Eric Pickles, said:
These common sense reforms will support local jobs and local firms. They complement the changes we are already delivered through the Localism Act, from streamlined planning guidance and, shortly, from the local retention of business rates.
Planning Minister Nick Boles said:
The Growth and Infrastructure Bill will boost investment and local economic growth. It removes confusing and overlapping red tape, whilst ensuring democratic checks and balances and environmental safeguards remain in place.

Britain is in a global race today with rising nations like China and Brazil. Countries like ours will only be able to compete if we make it easier for businesses to invest and quicker for infrastructure to get built.
Background
Published 18 October 2012