Biggest British IED clearance transforms Helmand village
A village previously seen as a failure in the eyes of Helmand's people has been retaken, regenerated and repopulated in an ongoing operation led by British paratroopers, supported by 80 bomb disposal specialists.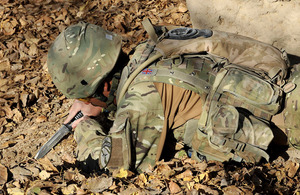 Char Coucha - which once had a thriving market and was a place of religious pilgrimage - is back on the road to peace and prosperity thanks to the combined efforts of 2nd Battalion The Parachute Regiment (2 PARA), members of the British Counter-IED Task Force, and their colleagues from the Afghan National Army and Afghan National Police.
The effort - codenamed Operation KAPCHA KWANDIKALAY (or Cobra Safe Village) - has seen the largest-scale, high-risk IED clearance of an entire village to be carried out by British forces in Afghanistan.
More than 40 families have now returned, with more set to follow as efforts to maintain the stable security situation continue.
Throughout 2010, Char Coucha was the scene of intense fighting, as British and Afghan forces battled the insurgency for control of the village. But despite the insurgent fighters remaining under pressure throughout, it became clear that the benefits of military successes were not being felt by local people.
As the insurgents suffered repeated losses at the hands of the British and Afghan forces, they retaliated by taking retribution against the local population, forcing people from their homes and laying IEDs in places where local civilians would be likely to trigger them, such as in the alleyways leading into compounds.
Following the arrival of 2 PARA in the area last year, two months were spent studying the situation in Char Coucha and analysing it from the perspective of local people. It was ascertained that the village represented to locals a symbolic failure of the Afghan Government and ISAF in the area, overshadowing security successes elsewhere.
Ambitious plans were rapidly drawn up to clear the village of IEDs and then secure it until local residents had returned to their homes. An exhaustive process of consultation determined that dozens of families, scattered across central Helmand, were prepared to return home to Char Coucha if the bombs were cleared away.
Despite high demand for counter-IED specialists across Helmand, a clearance force of 80 was deployed to Char Coucha to undertake the risky first stage of the operation - a painstaking, fingertip search of an entire village and all its complex terrain, including partially-destroyed compounds with overgrown vegetation up to 6ft (1.8m) high.
Within just eight days the IED clearance was complete, with nine IEDs defused, nine ordnance caches found and removed, and 75 compounds plus miles of tracks and alleyways searched and cleared.
After the physical clearance, the next step was to launch a three-phase plan to support the return of residents. Beginning with a 'get you in pack' to facilitate the immediate move, containing items including a cooker, a bag of rice, a bag of sugar and plastic sheeting for roofing, this was then followed by a survey of reoccupied compounds to identify damage to be rectified.
Finally, the reconstruction effort is empowering the fledgling village council in Char Coucha to identify longer-term development requirements including the refurbishment of a mosque and improvement of various walkways, which will reinforce the message that the Afghan Government is living up to its promises.
As efforts to return more families to the village continue, ongoing security is provided by nine checkpoints, with Afghan forces playing a significant role. In total, a force of 190 British and Afghan soldiers and police have been involved in the operation.
Char Coucha religious elder, Haji Khan Agha, said:
I did not initially believe it could be done but the Government and ISAF have made good on their promise to remove IEDs from this village. It is a great achievement.
Officer Commanding 2 PARA, Lieutenant Colonel Andrew Harrison, said:
When 2 PARA arrived here in October, Char Coucha was a deserted ghost town, choked of life by the insidious threat of IEDs. Thanks to the courage of my men and the counter-IED specialists who cleared Char Coucha, children are now playing in its streets and families returning.
Every day, more people reoccupy their compounds. This 'phoenix village' is now becoming a living memorial to those who fell fighting the scourge of the Taliban in its compounds and streets. It is an amazing story.
Published 15 March 2011