News story
Big step towards cleaning up the Saltburn Gill
The Coal Authority working in close partnership with the Saltburn Gill Action Group and the Environment Agency has successfully halted the worst of three flows of polluted water from the abandoned ironstone mines of East Cleveland.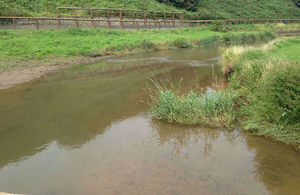 Mine water has flowed from old mine workings to the south of Saltburn since 1999, causing severe pollution of the Saltburn Gill and Skelton Beck. The unsightly orange stream has not gone unnoticed by the local residents as it flows over the beach and into the North Sea. The Saltburn Gill Action Group was set up by concerned local residents with help from the Environment Agency to raise the profile of the problem, and the Authority became involved initially in an advisory capacity in 2008 to guide the group through a feasibility study.
During the summer of 2013, the Department for Environment, Food & Rural Affairs (Defra) funded the Coal Authority to pump water from the mines to halt the polluting outflows. This water is partially cleaned up as it passes through the first stage of a treatment scheme built by the Coal Authority. Due to the Coal Authority treatment scheme, the worst of the polluting flows has been halted. It will continue to pump in order to dry up all the mine water pollution.
In 2014, a large wetland will be added to the treatment scheme to remove iron from the water using natural processes before the treated water is returned to the Gill. These reed beds will provide both filtration of the mine water to remove iron particles and a new environment for wildlife in the area, and will restore the Gill into a place where nature can thrive once again.
Published 8 January 2014