Big companies pledge to pay promptly following government drive
The number of FTSE 350 companies pledging to pay small firms promptly has tripled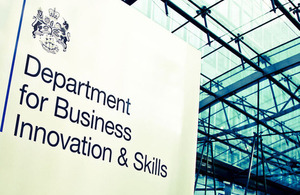 The number of FTSE 350 companies pledging to pay small firms promptly has tripled following a government drive to boost sign up to a code of conduct.
Business Minister Michael Fallon wrote to big businesses in November urging them to sign up to the Prompt Payment Code (PPC) or be named publicly. As a result, an additional 94 FTSE 350 companies have signed up, taking the total to 126. Also two dozen smaller non FTSE companies have committed support for the PPC. Three quarters of FTSE 100 companies have now signed up to the Code.
British firms such as Shell, Kingfisher and Diageo are among those that have signed up and are just some of the signatories leading the way in working with small and medium sized businesses in their supply chain on a payment system that works for all involved.
Business Minister Michael Fallon said:
Late payment is a real issue for businesses across the country. It is not fair and poor cash flow can prevent small firms growing and even push them into insolvency. We need to improve the payment culture and I welcome the response of big businesses in signing up to the common sense principles in the Prompt Payment Code.
Signing up demonstrates a serious pledge to pay promptly. Reports of any companies found to be falsely committed to the value of fairness in the Code will be taken very seriously.
But the work will not stop here. I will keep up pressure on firms to sign up and continue to ensure government leads by example in paying its suppliers on time. Central government has a good record. Now, I will be challenging other parts of the public sector to show their commitment to the principles of the Code.
A complete list of FTSE 350 signatories and non-signatories has been published today for the first time by the Institute of Credit Management, which runs the PPC, at http://www.promptpaymentcode.org.uk
Chief Executive of the Forum of Private Business, Phil Orford said:
The Prompt Payment Code is a kitemark for treating suppliers fairly. Companies that have chosen to sign up must understand that it is not just a token gesture, but a sizeable responsibility against which their payment practices can and will be judged.
At a time when businesses welcome any measures that improve their cash-flow, the Prompt Payment Code remains a valuable signal that companies will stick to their terms and conditions. We therefore welcome this substantial increase in those FTSE 350 companies that have signed the code, urge more to follow suit and ask that all consider their supply chains before extending payment times in the future.
It is estimated that more that half of all UK business transactions take place with no pre agreed payment terms and the code works to combat this. It demonstrates a commitment to fair practices and signatories are obliged to pay their suppliers within an agreed time.
John Walker, National Chairman, Federation of Small Businesses, said:
FSB research shows that around three quarters of members have experienced late payment with almost one in 10 (11%) waiting for more than £35,000. Big business has financial buffers that a smaller firm doesn't have and so they must be encouraged to pay on time.
It is great news that so many of the biggest companies have signed up to the Prompt Payment Code and we would urge the others to follow suit. We would also encourage government to look at its procurement contracts and its Tier 1 suppliers to ensure that they are passing the favourable payment terms they are receiving on through the entire supply chain.
The values of the Code will be further supported this month by the introduction of the European Union Late Payment Directive. Based on existing UK legislation, the directive aims to protect SMEs from chronic late payment, stipulating that:
Business-to-business payments cannot exceed 60 days unless otherwise agreed and provided it is not unfair to the creditor.
Public sector payment terms cannot exceed 30 days on receipt of invoice.
Central government departments are already leading the way in setting a strong example of best practice on prompt payment by committing to paying 80 per cent of undisputed invoices within five days. To ensure the benefits of prompt payment to main contractors are felt through the supply chain and benefit smaller businesses, main contractors are contractually required to pay their suppliers working on central government contracts within 30 days. The Department for Business, Innovation and Skills has a current success rate of over 90 per cent.
The Cabinet Office also operates a 'mystery shopper' system, which gives sub-contractors an opportunity to contact central government and complain if it feels aggrieved by the payment practices of a primary contractor. This provides an important non-litigation option for smaller suppliers and further embeds a responsible payment culture in public sector supply chains.
The issue of late payment persists over all sectors and all business sizes. In the coming months the Business Minister will continue to work with businesses groups and the ICM to raise awareness of the code and the issue of prompt payment. The Minister will engage with the wider public sector including local and police authorities and NHS bodies to ensure that the public sector as a whole follows best practice in the way they treat their suppliers.
Notes to editors
1.List of signatories and non signatories can be found here; http://www.icm.org.uk/home/icm-news
2.In November 2012, 32 FTSE 350 companies had signed up to the PPC. This number has now reached 126.
3.As of 1 March 2013:
64% of FTSE 100 companies are signed up to the PPC, and 12 more have committed to sign or are currently going through the process
25% of FTSE 250 companies have signed up to the PPC
36% of FTSE 350 companies have signed up to the PPC
Almost 50% (166) of Local Authorities are signed up to the Code
4.The Cabinet Office also operates a 'mystery shopper' system, which gives sub-contractors an opportunity to contact central government and complain if it feels aggrieved by the payment practices of a primary contractor. https://www.gov.uk/government/news/cabinet-office-work-to-shop-poor-procurement-work-and-boost-smes-sees-over-300-complaints-investigated
5.The government's economic policy objective is to achieve 'strong, sustainable and balanced growth that is more evenly shared across the country and between industries'. It set four ambitions in the 'Plan for Growth' (PDF 1.7MB), published at Budget 2011:
To create the most competitive tax system in the G20
To make the UK the best place in Europe to start, finance and grow a business
To encourage investment and exports as a route to a more balanced economy
To create a more educated workforce that is the most flexible in Europe.
Work is underway across government to achieve these ambitions, including progress on more than 250 measures as part of the Growth Review. Developing an Industrial Strategy gives new impetus to this work by providing businesses, investors and the public with more clarity about the long-term direction in which the government wants the economy to travel.
Published 4 March 2013