World news story
Better Regulation event in Croatia
British Embassy and Croatian Ministry of Economy co-hosted mini conference on better regulation.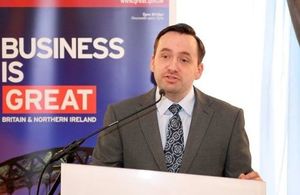 British Embassy Zagreb and the Ministry of Economy of the Republic of Croatia co-hosted mini-conference on better regulation. The event gathered participants from both public and private sector as well as NGOs. The objective was to share the UK and Croatia's experience on dealing with regulatory burden and to explore new avenues to continue already strong collaboration in this field.
HMA Dalgleish in his opening words touched on bilateral cooperation on better regulation so far saying that the conference is a continuation of dialogue on a topic that is equally important to both countries.
Deputy Prime Minister and Minister of Economy Martina Dalić talked about her ministry's efforts to reduce regulatory burden in Croatia mainly through the Action Plan that was launched in January. Minister Dalić also used the opportunity to inform the audience that the Ministry had launched on that day a Register of Non-Tax Levies. The Register contains a list of 547 levies that businesses and tax payers have to pay mainly to local administration bodies. Minister Dalić's objective is to reduce non-tax levies by 30% over next three years.
Ian Bishop, Assistant Director from the UK's Better Regulation Executive talked about the UK's approach to better regulation and how the framework had evolved since inception in 2011. Ian's presentation placed particular focus on the challenges all stakeholders had to face in reducing regulatory burdens. The audience also learned about concepts such as One-in, One–out which has now grown into One–in, Three-Out, Red Tape Challenge and financial reductions on businesses that had been made (2.2B per annum). Ian concluded his presentation but saying that the UK better regulation framework had achieved a lot and has driven genuine improvements for business but emphasised that it will continue to require the right focus and in particular mature relationships within a transparent and rules based system.
Published 16 March 2017