Press release
Better protection for UK holidaymakers
Aviation Minister Simon Burns has announced new rules to better protect holidaymakers from losing out if their travel company fails.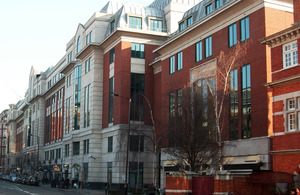 Anyone who books an ATOL-protected holiday or flight will immediately get an ATOL certificate confirming the details of the booking and their level of protection. It is designed to make clear to UK holidaymakers in a simple, straightforward way how their holiday is financially protected.
With holidays protected by the Air Travel Organisers' Licensing (ATOL) scheme passengers get either a full refund or repatriation if they are already abroad when their holiday company becomes insolvent.
Simon Burns said:
The internet has made booking a holiday easier but that can lead to a lack of clarity on the important matter of what happens if the holiday company runs into trouble.

The ATOL certificate will give peace of mind to millions when booking their holiday. Whether on a computer, the phone or in a travel agent, holidaymakers will not only complete their booking but also receive a certificate removing any doubt over their level of cover.

I want this certificate to become a standard travel document that families will expect alongside their flight tickets and holiday details.
Dame Deirdre Hutton, Chair of the Civil Aviation Authority, said:
It's been clear for some time that people are confused about holiday financial protection, and consumers have told us that they want more clarity about how their holidays are protected. The introduction of the ATOL Certificate will mean that people can clearly see on one standard document what is protected, who is protecting it and what they should do if their company fails.

It's a change in the scheme that will make simple what currently can seem very complex: with the certificate consumers have protection, without it they do not.
The ATOL certificate is the final stage of reforms introduced on 30 April to modernise the scheme, including bringing Flight Plus holidays into the ATOL scheme and returning it to financial self-sustainability.
The Civil Aviation Bill currently going through Parliament includes a clause which could enable the Transport Secretary to make further changes to the ATOL scheme in future. This could mean holidays sold by airlines and holidays arranged on an 'agent for the consumer' basis being brought into the scheme.
Notes to editors
The ATOL scheme is administered by the Civil Aviation Authority and ensures passengers who have not already travelled receive a full refund or are brought home free of charge if abroad at the time of insolvency.
The ATOL Certificate is a standard document issued by anyone selling an ATOL-protected holiday, which makes clear how the trip is protected and by whom.
An estimated 38.3 million people flew abroad on leisure trips in 2011. In the year to 31 March 2012 there were 17.3m ATOL protected holidays and flights, and nearly 82,000 holidaymakers were repatriated or received full refunds when their ATOL tour operator went bust.
Most businesses selling package holidays including a flight have to have an ATOL licence issued by the CAA. Businesses pay £2.50 for each booking into the Air Travel Trust Fund that meets the costs of refunds and repatriations.
The ATOL scheme was first put in place on a statutory basis in the early 1970s. It was last substantially overhauled in 1995. Airlines are legally exempt from the requirement to hold an ATOL licence, however, any package holidays they sell must still be financially protected, under the Package Travel Regulations. A number of UK airlines have subsequently set up subsidiary companies to sell package holidays that do have an ATOL licence.
Further details on the Civil Aviation Bill which is currently proceeding through Parliament are available on the Department for Transport website.
On 30 April 2012, changes were put in place to improve the clarity of the ATOL scheme's coverage by including in it Flight-Plus holidays. This should also help the schemes' finances to return to a secure self-sustaining footing. Following a series of high-profile insolvencies in recent years, the Air Travel Trust Fund is currently running at a deficit, supported by a government-backed guarantee. It is hoped the new rules will eliminate this within 3 years, reducing the risk to the taxpayer.
Aviation and maritime media enquiries
Media enquiries 020 7944 3021
Out of hours media enquiries 020 7944 4292
Switchboard 0300 330 3000