Press release
Better information about lorry parking provision
Lorry parking study published.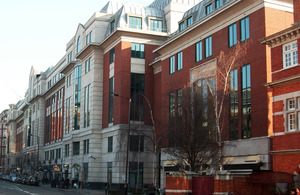 A comprehensive report on the availability and use of lorry parking facilities in England has been published today (10 November 2011) by Roads Minister Mike Penning.
The study reviewed lorry parking facilities, including their capacity and levels of use, as well as other indicators of demand. The final report gives hauliers, councils and potential private sector investors a comprehensive picture of the demand for lorry parking and facilities easily accessible from the strategic road network as well as identifying hotspots where there is currently inadequate supply to meet demand.
It is also hoped that making more information available about where facilities can be found will make it easier for drivers to find places where they can park up safely.
Mike Penning said:
Making this information available to drivers and operators will make it easier for them to know where facilities are available. It will also help developers and local councils who want to plug gaps in the market helping to boost growth in the sector.

I hope that by providing better information we will see more high quality lorry parking facilities in the places where they are most needed. This will improve safety for drivers and reduce disruption for local residents.
There will also be discussions with the Road Haulage Forum on proposals to improve the provision and quality of parking facilities, with local authorities to explore best practice in tackling problems with inappropriate parking and between stakeholders in Kent to agree a solution to the problems caused by Operation Stack.
Notes to editors
The report by AECOM is available on the department's website
The report lists the number of lorries using parks in each local authority when the survey was carried out and the number parking in lay-bys and industrial estates. The report also compares the situation in each local authority with neighbouring ones, which will help local authorities explore the potential for co-ordinating resources and initiatives to restrict inappropriate parking.
The Road Haulage Forum was established by the department to give haulage trade bodies and representative unions a formal opportunity to work in partnership, providing a forum through which to discuss areas of mutual concern and interest with government officials on a regular basis.
"Operation Stack" is the parking of Channel bound freight traffic on the M20 motorway. It is initiated and implemented by Kent Police, when there is disruption to cross channel travel. Several thousand goods vehicles may be parked on the M20 at this time, with obvious disruption to non-freight traffic.
Press enquiries: 020 7944 3066
Out of hours: 020 7944 4292
Public enquiries: 0300 330 3000
Published 10 November 2011