Press release
Better global disability data needed to ensure no one is left behind
The international community needs to do more to stop people with disabilities being left behind, International Development Minster Lynne Featherstone said today.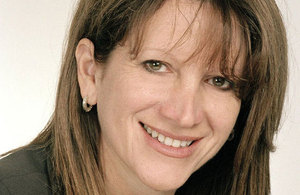 Development Minister Lynne Featherstone has called for better data collection on disability prevalence in order to improve support for those affected in developing countries.
Speaking at the Disability Data Conference today in London (23 October 2014), Ms Featherstone, alongside co-hosts Akiko Ito, Chief of the Secretariat for the UN's Convention on the Rights of Persons with Disabilities and Director of the Leonard Cheshire Disability Research Centre, called on international development donors, civil society organisations and academics to strengthen the quality of information they collect about disability by using a single method of data collection.
Currently, differing definitions of disability and inconsistent information gathering have led to a gap in reliable global disability data. This inability to evaluate need and progress has deterred governments and non-specialist organisations from incorporating the requirements of people with disabilities into basic services, opportunities and development programmes, potentially preventing millions of people receiving the help they need.
Attendees at the conference were encourage to adopt the UN's Washington Group Questions as a single measure of disability that can be incorporated into other questionnaires and provide a benchmark against which disability can be measured.
Lynne Featherstone said:
It's a sad truth that in many developing countries people with disabilities simply don't count. No data is collected on their disabilities nor their abilities, so it's as if they just don't exist. This gap in disability data must urgently be addressed. Until we have more concrete evidence on disability, it is far too easy for governments and others to continue to ignore the people who are already some of the most neglected in society.

As we prepare for the post-2015 development framework and the principle of 'leave no one behind', we must be sure that everyone is accounted for, this includes the 1 billion-plus people living with disability. Only by having the right information from the start will we be able to do this properly.
Akiko Ito said:
The United Nations Department of Economic and Social Affairs is pleased to support this initiative and the work DFID is doing to advance the status of disability data and statistics, monitoring and evaluation; the essential condition for an inclusive post 2015 development framework.
Professor Nora Groce said:
I am delighted to be the co-chair of this disability data conference. The only way we can better understand the barriers disabled people face and how to address these is by ensuring that we have the right data available.

There is a pressing need for data on persons with disabilities to inform international development in the post-2015 environment. Through this conference we hope that we will start the conversations on what is the right data, and how we can systematically collect it, to make a positive impact on the lives of disabled people globally.
Ms Featherstone also announced at the conference that all Water, Sanitation and Hygiene programmes delivered on behalf of DFID will now need to be sensitive to the needs of people with a disability. DFID is also incorporating disability further into its humanitarian response work.
Notes to editors
Disability Data Conference: Making Disability Count was hosted at the Department for International Development in London.
General media queries
Follow the DFID Media office on Twitter - @DFID_Press
Published 23 October 2014