Press release
Bennett lays down billion pound challenge to NHS foundation trusts
NHS foundation trusts must redouble their efforts to make efficiency savings in order to bring down a deficit that threatens to reach £1 billion this year.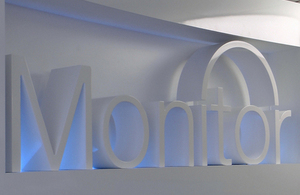 The regulator warned the 152 foundation trusts their cherished freedoms will come under increasing pressure unless they demonstrate faster improvements in productivity, including urgently adopting more radical ways of working.
David Bennett, the Chief Executive of Monitor, spelled out the stark challenge facing the NHS to the Healthcare Financial Management Association (HFMA), which represents the finance directors of all NHS organisations. In a wide-ranging speech to the HFMA annual conference in Birmingham, he said:
the latest forecast deficit from all foundation trusts of £989 million for 2015/16 is "unaffordable" so essential savings must be made swiftly
foundation trusts in general had not used their freedoms to improve performance fast enough, and had been too slow to adopt best practice in efficiency
Monitor will clamp down further on poor financial and operational performance, including rating all foundation trusts on a sliding scale for the first time
individual foundation trusts will need to co-operate with their neighbours and commissioners to organise services in the most efficient way possible, even if that sometimes means giving up the provision of some medical specialities to others
Dr Bennett said:
The NHS is in the difficult position of having to design its future at the same time as fixing its present. The Five Year Forward View sets out a vision for how the NHS needs to change but it is going to be hard work getting there, especially as we have a huge challenge on our hands right now.
He added:
I recognise that just because deficits mostly sit with providers doesn't mean they are the only NHS organisations that need to up their game. Nevertheless, current plans are unaffordable, and all providers have to make a major contribution to efficiency improvements, even those who aren't currently forecasting to be in deficit. This means hospitals leaving no stone unturned, and adopting best and better practice everywhere; avoiding unnecessary expenditure, and adopting new ways of working.
Dr Bennett reaffirmed the principles underpinning foundation trust status – and noted that on balance foundation trusts were the best-managed NHS providers - but he warned trust managers that the foundation trust model would have to adapt to circumstances.
We have to do better, especially if freedoms are not to be completely eroded. We want to work with you to redesign patient services across organisational boundaries, where there may be some winners and some losers. We are not advocating the closure of vital hospital services, but we recognise that in some places they can be run better on a shared basis by trusts within a geographical area, for example through clinical networking arrangements.
Dr Bennett said that as the regulator of foundation trusts, Monitor would act sooner over under-performance and demand faster responses. Trusts found in breach of their licence would be ranked according to the seriousness of their financial and operational problems, echoing the Special Measures regime for inadequate care.
But he also promised more practical support for foundation trusts in difficulty, by getting the best performers to help the poorest through buddying arrangements, and creating a pool of troubleshooters to turnaround struggling trusts. He also backed those foundation trusts that were willing to take over the running of others in difficulty – although he warned it could take years to establish successful chains of hospitals.
Acknowledging that the NHS payment system had put the onus on providers to make efficiencies in the past, Dr Bennett signalled that commissioners would have to play an increasing part, managing demand and redesigning services so that they can be delivered more efficiently whilst also better meeting the needs of patients. He also insisted that central controls on foundation trust spending like agency staffing and management consultancy must be applied intelligently.
"We must be careful not to throw the baby out with the bathwater. The idea that we have empowered local leaders to focus on what they need to do, not bombard them with requests for information, or worse still try to manage their trusts for them, remains critical to the foundation trust model," he said.
Published 3 July 2015