Benefits of virtual testing felt on front line
The Information Superiority Experimentation Laboratory (ISEL) is located at the Defence Science and Technology Laboratory (Dstl) site at Porton…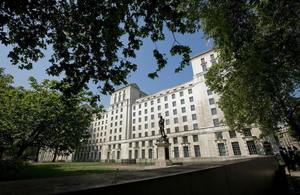 The Information Superiority Experimentation Laboratory (ISEL) is located at the Defence Science and Technology Laboratory (Dstl) site at Porton Down in Wiltshire, and employs MOD scientists who support operations.
The commercially neutral, Government-owned and operated building, where ISEL is situated, provides users from Government, the Armed Forces, industry and academia with a comprehensive support package that includes:
secure and flexible laboratory space in ten reconfigurable laboratories
links to secure national and international network links, and
access to subject matter experts from across Dstl, including military personnel.
Although the primary focus for ISEL is Command, Control, Communication, Computers, Intelligence, Surveillance, Target Acquisition and Reconnaissance experimentation, the facility contributes to a range of related activities, from military training to equipment capability demonstration.
Dstl military adviser Commander Mike Toft said:
The images we see of operations tend to be of a physical nature: such as people, aircraft, ships, guns and explosions. However, behind the hardware lies a vast data network which is absolutely vital to the battle-winning delivery of military effect.

ISEL plays a key role in ensuring that this network is as efficient as it can be, and that new systems and applications are integrated effectively with minimal interruption to the front line.
Work facilitated by the laboratory, through the Knowledge Integration and Test Environment (KITE) programme, includes the use of an adapted commercially available computer game to provide military training.
Virtual Battlespace 2 (VBS2), modified from the existing game 'Armoured Assault' by Bohemia Interactive, is now used across the MOD to provide pre-deployment training and the ability to practise drills anywhere - significantly reducing transportation and facility costs.
Dstl's technical lead for the KITE research programme, Andrew Poulter, said:
These pieces of software have provided real benefit to armed forces during pre-deployment training.

I have spoken to commanding officers who have told me that the repeated drilling of troops in the correct procedures using VBS2 means that, when faced with real situations in-theatre, they are far more effective; and this has saved lives.
Other research within KITE includes representing the behaviour of troops and other forces within a simulation, enabling a single operator to control a large formation. Mr Poulter said:
Tools like this enable training to take place within the context of a rich and immersive military scenario: as units controlled by trainees can be augmented by addition of those controlled by artificial intelligence without the need for large numbers of supporting human players.
A new approach to data acquisition has given much easier access to integrated databases, helping with the fight against improvised explosive devices (IEDs) in Afghanistan.
ISEL was used to demonstrate how a conceptual piece of research could operate on military networks in theatre.
Funded by the International Technology Alliance (ITA), a collaborative research alliance between the MOD, the US Army Research Laboratory and industrial and academic partners, the project investigated the concept of linking together many distributed data sources, and has produced software to automatically integrate a large number of the databases used in theatre into one easily searchable platform.
ITA project leader, Graham Bent, said:
We used ISEL to demonstrate that this development would work on representative military networks. The research showed that the concept should work, but we needed to present the evidence to reduce the risk to procurement agencies like Defence Equipment and Support, and others in the MOD.

ISEL represents a safe environment, free of commercial sensitivities, where we can demonstrate that our technology solutions work in support of operations.
Support to accelerated procurement programmes, called Urgent Operational Requirements (UORs), has also been supplied by work carried out in ISEL.
One such UOR was for the ATTACKER system - which permits the sharing and dissemination of imagery and associated products using a number of world-first connectivity solutions. Rigorous testing on SANDBOX - a Dstl-managed, virtual environment for testing computing solutions - to represent current capabilities in Afghanistan, enabled ATTACKER's expedient delivery to the front line. The system has already improved access to imagery from a number of data collection assets employed in Afghanistan, ensuring that analysts have timely, accurate information on which to base operational decisions.
SANDBOX, although able to faithfully represent real-life conditions, is also fully customisable, meaning that the testing environment can be manipulated to suit the needs of the research; a unique capability.
The laboratories, separately or collectively, can be connected to external sites, globally, through the all-powerful Network Operating Centre (NOC), a large room populated by servers, on the face of it like any other commercially secure NOC.
The level of scrutiny and security required is heightened as the NOC deals with secure government networks and acts as the portal for international activity.
Dstl manages connectivity into and out from the site, and facilitates the creation of secure collaborative working environments across the UK and internationally.
The Combined Federated BattleLabs Network (CFBLNet) allows those operating at ISEL to connect with sites in Canada, Australia, New Zealand and America simultaneously, reducing the need for international travel, along with the associated costs and carbon emissions.
Dstl Information Management Department Manager, Graham Balmer, said:
What we've produced here is a fully customisable experimentation laboratory … which has already had an impact on operations and will continue to do so.

This laboratory is designed with the future in mind. The customisable nature of ISEL ensures that multiple functions can be catered for, and it can adapt to emerging priorities, from the support to operations that is saving lives right now, all the way to, for example, cyber experimentation.
Published 28 October 2011