Press release
Benefit cap: 200 people into work or off Housing Benefit every week
The benefit cap is encouraging more people to work or stop claiming Housing Benefit.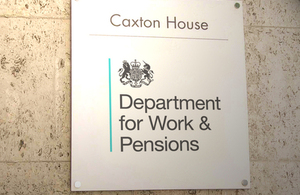 The benefit cap is providing a clear incentive to work, with an average of 200 people every week making the choice to move into work or stop claiming Housing Benefit.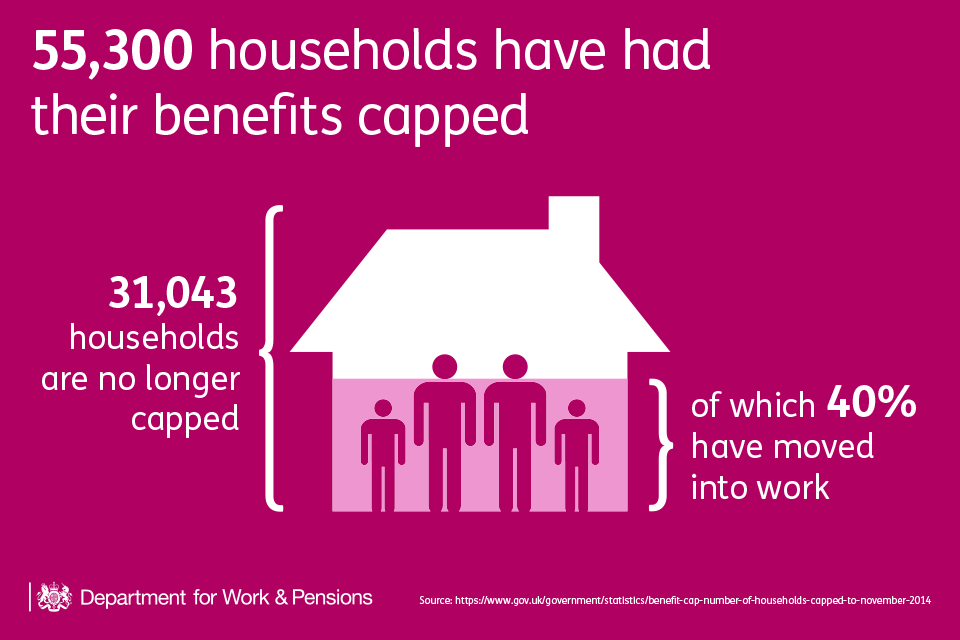 Latest figures show how thousands of people previously claiming benefits are making the most of almost 700,000 vacancies in the economy and contributing to record levels of employment.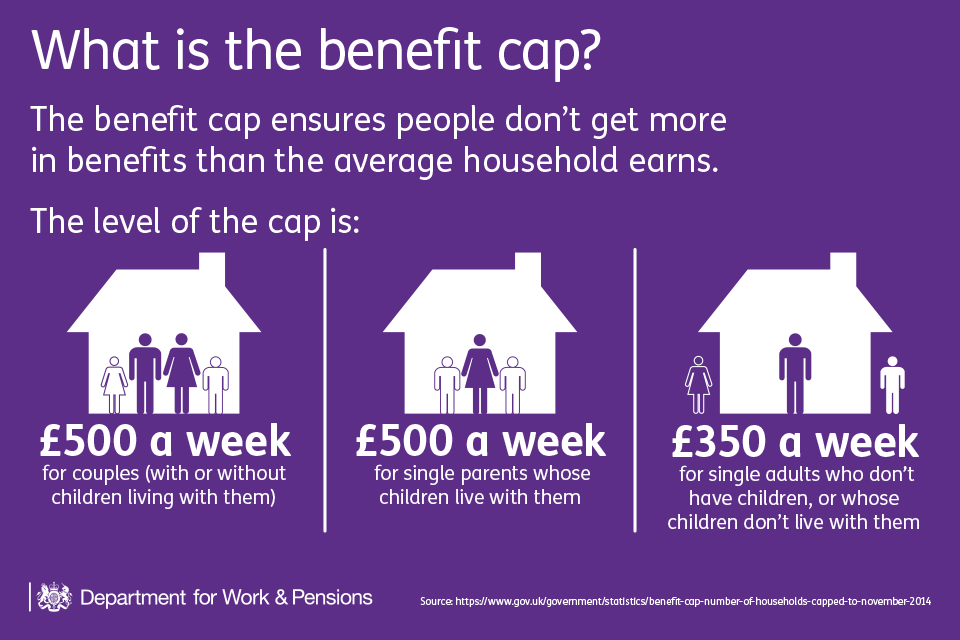 Secretary of State for Work and Pensions, Iain Duncan Smith, said:
As well as restoring fairness to the system, and saving the taxpayer money, the benefit cap provides a clear incentive to people to get into work.

Today's figures show that the cap has led to hundreds of people breaking free from welfare dependency every week, and gaining the financial security and esteem which comes with a job and pay packet.

That's real people turning their lives and the prospects of their families around. It is a proud record of this government's long-term economic plan – one that we are determined to see through.
Capping benefits means that no-one can claim more in out-of-work benefits than the average household earnings, whereas previously benefit claims could rise to the equivalent salary of £74,000 or beyond.
The policy was introduced in April 2013 and most recent estimates suggest that it will save almost £225 million over 2 years.
Over 55,000 households have had their benefits capped and, of these, almost 3 in 5 households are no longer subject to the cap.
Before the benefit cap, 300 of the highest claiming families got over £9 million in benefits every year.
Recent research published showed that the cap is motivating people to find work. For example:
those who would be impacted by the cap are 41% more likely to go into work than a similar group who fall just below the cap's level, but this trend didn't exist before the cap was in place – indeed those with higher weekly benefit used to be less likely to move into work
38% of those capped said they were doing more to find work, a third were submitting more applications and 1 in 5 went to more interviews
where households said they intended to seek work because of the cap in February 2014 (45%), by August the vast majority of them (85%) had done so
2 in 5 (40%) of those who said they had looked for work because of the cap in February actually entered employment by August
The benefit cap in numbers
The numbers show:
55,300 households have had their benefits capped since April 2013
31,000 households are no longer subject to the benefit cap
19,800 households are no longer capped as they moved into work, reduced their Housing Benefit claim or are no longer claiming Housing Benefit at all
About the benefit cap
The benefit cap limits the amount of benefits a household can receive to £500 a week for couples, with or without children, and £350 a week for households of a single adult with no children.
To increase the incentives for claimants to move into work, households where someone is entitled to a Working Tax Credit are exempt from the benefit cap.
All households with someone, including a child, in receipt of a disability-related benefit are also exempt from the benefit cap recognising the extra costs disability can bring.
Contact Press Office
Media enquiries for this press release – 0203 267 5109
Press Office
Caxton House
Tothill Street
London
SW1H 9NA
London Press Office (national media and London area enquiries only – not questions about personal claims) 020 3267 5144
Out-of-hours (journalists only) 076 59 108 883
England and Wales (local media enquiries) 029 20 586 then 097 or 098 or 099
Scotland (local media enquiries) 0131 310 1122
Follow DWP on:
Published 5 February 2015