Bells mark start of the 2012 Games
Big Ben was among the bells that rang in unison around the UK at 8.12am today.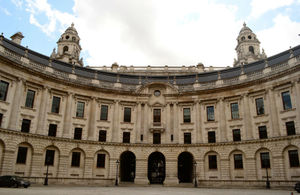 At 8.12am today, people rang bells across the country for three minutes to mark the start of the London 2012 Games.
They were taking part in 'Work No.1197: All the bells in a country rung as quickly and as loudly as possible for three minutes', a performance coordinated by Turner Prize-winning artist Martin Creed to herald the first day of London 2012 and welcome the competing nations.
In London, Big Ben was rung more than 40 times, believed to be the first time that it has been rung outside its regular schedule since 15 February 1952, when it tolled every minute for 56 strokes from 9.30am for the funeral of King George VI. The National Assembly for Wales, Stormont and the Scottish Parliament rang their bells, so that all four bodies tolled in unison.
Artist Martin Creed said: 'It's by people and for people. On the morning of the opening of the Games it's a massive signal that something is happening.'
Across the UK, people rang schools bells, church bells, town hall bells, bicycle bells and door bells. Organisations that registered to take part also included: the Royal Navy, British Embassies worldwide, the Mayor of London, the Archbishop of Westminster, The Girl Guides Association, the RAF and the British Army.  Culture Secretary Jeremy Hunt rang bells on the deck of HMS Belfast, on the Thames.
The work is part of the London 2012 Festival, a spectacular 12-week nationwide celebration running until the end of the Paralympic Games on 9 September.
Ruth Mackenzie, Cultural Olympiad and London 2012 Festival Director, said: 'The commission shows the Festival's commitment to world-class artists and to the values of participation. Martin Creed's wonderful idea gets everyone involved in the opening day of the Games - not just as an audience, but as an integral part of the work.'
Listen to Big Ben tolling in the heart of Westminster
Listen to 'Big Ben heralds the start of London 2012 during 'All the Bells'' on Audioboo
Further information
Published 29 July 2012