Press release
Belfast coastguard warn of tidal surge
Weather warning issued following Met Office forecast for rain, strong winds or gales.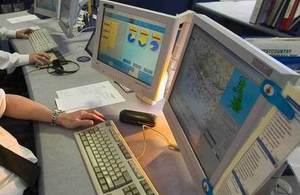 Belfast Coastguard are issuing a warning following the Met Office forecast for rain during the remainder of Sunday and for strong winds or gales on Monday. The Northern Ireland Coastline is expected to get hit with strong winds and high tides to produce large over-topping waves and another tidal surge, with the east coast particularly at risk.
Belfast Coastguard Rescue Co-ordination Centre manager, Steven Carson, said:
With one of the worst tidal surges in recent years, we would urge members of the public to take extra care along our coastline at this time. Please stay away from coastal paths, sea walls and cliff edges. These types of conditions, with choppy seas and large waves, are likely to be with us for a few days yet, so please don't take risks. If you do get into difficulty, or spot someone else in trouble, call 999 straight away and ask for the Coastguard.
Police Commander in charge of the multi-agency response, Assistant Chief Constable Stephen Martin said:
We continue to respond to the changing weather conditions with our partnership agencies and plans are in place to deal with the impact these changing conditions may have on the community. As a precaution we are planning for the risk of flooding in a number of areas. We would urge the public to remain on alert and to be mindful of their own safety in particular to avoid coastal paths, be wary of possibly unstable harbour defences and to drive with extreme caution as many roads continue to be affected by surface water.

The public can also call the Flooding Incident Line on 0300 2000 100 or the police non-emergency line on 0845 600 8000 if they would like advice or support around potential flooding.
Maritime and Coastguard Agency press office
Press enquiries 020381 72222 (Monday to Friday, 9am-5pm)
Outside these hours, for emergency press enquiries only please dial the above number. You will hear a message giving an out of hours pager number.
Published 5 January 2014