News story
BEIS Committee members visit Sellafield site
Three members of the Business, Energy and Industrial Strategy (BEIS) Select Committee visited the Sellafield site last week.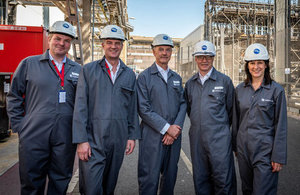 Decommissioning the congested Sellafeld site is the most challenging environmental remediation project in Europe. Three members of BEIS Select Committee visited the site, to learn about the challenges and progress being made in reducing hazards and risks at the site.
The committee's primary focus is on the management of radioactive waste, and Chair of the Committee, Rachel Reeves MP (Leeds West) was accompanied on the visit by fellow Committee members Mark Pawsey MP (Rugby) and Peter Kyle MP (Hove).
The MPs witnessed some of the innovative work being carried out on one of the high priority facilities on the site. They were joined by the Nuclear Decommissioning Authority CEO David Peattie and former MP, now Sellafield Ltd's head of development and community relations, Jamie Reed.
The full story on the Sellafield visit can be found on Politics at Home.
Published 6 July 2018