Beating the IED threat in Helmand
Men, machines, and most recently, animals, are working together to beat the biggest threat to troops in Afghanistan - improvised explosive devices (IEDs) laid by insurgents. Report by Sharon Kean.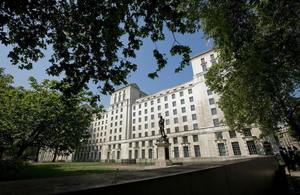 A combination of search teams and bomb disposal experts (Advanced Defence Explosive Ordnance Disposal) from across the forces form Counter-IED (C-IED) teams.
These work alongside the infantry battalions fighting on the front line in Helmand province, and can be called upon to deal with any IEDs soldiers find.
Lieutenant Paul Lucy, a Royal Engineers officer leading a search team that spent a six-month winter deployment in Helmand, said:
Searchers have hand-held detectors but their main tools are their eyes. The hand-held detector is a great piece of kit, but the key thing is to keep your eyes and ears open as well.
Lieutenant Lucy is a Royal Engineer Search Advisor heading a team which includes a commander, a second-in-command and a number of sappers who carry out the searches:
My role is to assess the threat, which can change minute-by-minute," he said. "Searches are usually at a slow and safe pace, but it depends what's going on around the soldiers.
When IEDs are found, the team's explosive ordnance disposal (EOD) operatives are called out to dispose of them.
That two such men were awarded George Crosses earlier this year speaks volumes about the importance of their role:
A search team wouldn't go anywhere without EOD operatives, because there's no point in finding something if it can't be dealt with," said Lieutenant Lucy.
His team was deployed with Royal Welsh infantry during Operation MOSHTARAK, a combined effort with the Afghan National Army to break into the Babaji area of Helmand early this year:
We found two or three bomb factories and at least ten devices," he said.
Counter-IED teams are likely to become familiar with every corner of Helmand over the course of a six-month tour. Some missions will be more stressful than others.
Captain Gareth Bateman, Second-in-Command of the Joint Force EOD Group, said:
You might find a team in Sangin is going on planned operations every day, while others are not so busy.

We rotate teams to maintain momentum among the battle groups and to keep the teams fresh as well. As you can imagine, the concentration levels these guys require is very high.
Now the bomb squads are benefiting from new colleagues - Belgian Shepherds. Sleek and powerfully built, the dogs have a proven ability to cope with the heat and a good nose for sniffing out IEDs.
In the training area, the dogs work closely with their handlers. Staff Sergeant Malcolm Quigley, the dogs' chief trainer, said:
If a dog finds something, it indicates this, and the search team takes over. The dogs provide the early warning protection.
Chocolat is a dog who has already seen front line action, including an unplanned ride in a Chinook helicopter when he was evacuated as a medical emergency.
But it wasn't an IED that saw the dog land in Bastion's field hospital for treatment, rather it was an unfortunate encounter with some barbed wire:
Team medics are trained to resuscitate dogs and to put intravenous lines into them," said Captain Bateman.
Chocolat has since recovered and is running rings around his handler who takes him out for physical training (PT):
They're very fit animals indeed," says Staff Sergeant Quigley. "After a PT session they'll have a drink then look at us as if to say 'let's do it again'.
An alternative to man or beast is a machine that simply blasts through belts of IEDs.
One example is the Royal Engineers' awesome Trojan. The tracked monster is equipped with a mine destruction system which was fired in anger during Operation MOSHTARAK.
The weapon blasted all IEDs in its path, clearing a safe route for convoys of vehicles carrying stores and equipment to front line bases:
We led an armoured convoy of around 50 vehicles," said Lieutenant Jim Viney, who commanded a Trojan. "We had our hatches closed down and, when the rocket went off, we could feel the pressure as it left. The main feeling was of relief - that it had gone off and done its job.
While Trojan was ideal during the fast-paced advance of Operation MOSHTARAK, it could never replace the need for troops and dogs on the ground, who work near to and even in towns and villages:
You can't reassure the local people if you go smashing through with a tank," said Captain Bateman.
The benefits of maintaining neighbourly relations became clear during Op MOSHTARAK:
Rather than having to search for IEDs, locals started to tell us where they were.
This article is taken from the August 2010 edition of Defence Focus - the magazine for everyone in Defence.
Published 28 July 2010