World news story
Be Travel Aware: Check your passport's validity
Taking a few steps to check your passport's validity can save a lot of heartache.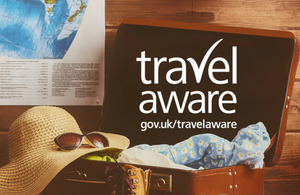 With Christmas and New Year behind us, thoughts now turn to planning family vacations over Easter and the long summer break. Sadly, not all of these trips go according to plan—some end up being more costly and stressful than expected.
The Consular Section at the British High Commission regularly receives panic calls from Britons at the airport—someone in the family was not allowed to board the flight because their passport expires in less than six months. (Most countries in Asia require six months' validity on passports.) We can help by processing an Emergency Travel Document (ETD)—this costs £100 and is usually issued within 24 hours. Visas for ETDs may be required; some countries that allow visa-free entry on a regular passport will require a visa for an ETD. Some countries, such as Myanmar and Laos, will not allow entry at all on an ETD. As you can see, these scenarios result in added costs and unexpected delays.
To make your next holiday completely stress-free, make sure that you:
Check GOV.UK Travel Advice pages for the countries you plan to visit and find out what the entry requirements are
Check that everyone's passport is valid according to the entry requirements
Pay attention to children's passport validity—they expire after five years!
Renew passports ahead of time—visit here for guidelines
Visit travel aware for practical travel tips
Follow us on social media:
British High Commission, Singapore on Facebook , Twitter and Instagram
British High Commissioner to Singapore, Scott Wightman on Twitter
Department for International Trade, Singapore on Twitter