Press release
Be passport aware and avoid being hustled on holiday
Foreign & Commonwealth Office urges British nationals to keep their passports safe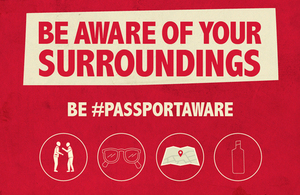 As the thoughts of millions of British nationals begin to turn to holidays abroad this summer, the Foreign & Commonwealth Office (FCO) is launching a campaign to underline the value of the British passport and to help travellers to recognise and avoid potential threats from thieves.
Last year more than 20,000 British passports were reported lost or stolen, with anecdotal evidence suggesting that many British nationals fell foul of thieves and pickpockets. To make people more aware of the risk to their passports and other valuables, the FCO has teamed up with stealth crime expert and 'Man of Steal' James Freedman to create a series of short video clips to demonstrate the techniques used by thieves to pilfer passports, and to offer advice on how to avoid becoming a target.
James Duddridge, Foreign and Commonwealth Office Minister, said:
Holidays are a great time of enjoyment with friends and family, but if you do end up a victim of theft, or simply lose your passport, then your trip could be ruined. Criminals operate all over the world, so travellers need to keep their wits about them and take care of their passports or risk losing valuable holiday time and money applying for an emergency travel document. Passports are essential for smooth and safe travelling, so follow our top tips to avoid getting hustled for your passport. To avoid being a star of your own passport hustle, stay smart overseas.
James Freedman, stealth crime expert, said:
Pickpockets and thieves constantly evolve their techniques and tactics. These videos show just a handful of ways that a pickpocket might attempt to steal from you, so remember some basic advice to stay safe. If you don't need to take your passport with you, leave it in your hotel safe instead. Only carry what you need and keep valuables in a secure pocket. If you have a bag or case, never let it out of your sight. Be more alert in crowds and wary of anyone getting too close. Finally, try not to advertise the location of prized possessions by patting your pockets or bags. That's why you'll often find pickpockets near the "Beware Pickpockets" sign!
Cases this year have included a student backpacking in Peru, who was distracted when a local man 'accidentally' pushed him, giving a female accomplice the opportunity to grab his rucksack. In Rome, a holidaymaker's attention was grabbed by a man knocking on the window of his railway carriage. At that moment, his partner in crime snatched his bag containing not only his passport but all of his valuable camera equipment.
Everybody should enjoy making the most of their time on holiday. However valuable holiday time and money can be lost if a passport is lost or stolen, as the victim may need to report the theft to the police, and spend time at the local consulate or embassy being issued with an emergency travel document. Consulates around the world are issuing large numbers of emergency travel documents, and assisting distressed British nationals who have been victims of crime each year.
The FCO's top tips for keeping your passport safe:
be aware of your surroundings and be wary of strangers who take an unusual amount of interest in you
a damaged passport cannot be used for travel, so value it and keep it safe
lock your passport in a safe if you have access to one, or if you are required to keep it with you, ensure its location is not visible
make two photocopies of your passport – leave one with friends or family and take the second with you, or store an electronic copy securely; where permitted, use your photocopy as alternative ID, for example when going out at night
for certain countries your passport must be valid for 6 months after the date you travel – check the entry requirements before you go
ensure you fill in the emergency details / next of kin page before you go
The videos can be viewed on the FCO Travel Facebook, Twitter and YouTube feeds.
Further information
If you would like further information please contact 0207 781 2342 or fcoteam@consolidatedpr.com
About FCO 'Know Before You Go' campaign
The FCO 'Know Before You Go' campaign targets a number of audiences, from gap year students to package holidaymakers; sports fans to older travellers and people visiting friends and family abroad. The campaign works with more than 400 travel industry partners to communicate its messages. For more information visit our Know Before You Go.
If you have any enquiries for FCO consular staff before you go or while abroad you can use the FCO's Twitter service @FCOtravel. Questions are answered 9am-6pm GMT, Monday to Friday and FCO staff aim to respond within 30 minutes. This service adds to the ways that British people travelling or living overseas can already get in touch with the FCO: by emailing our travel advice team or contacting local consular staff.
You can keep up-to-date with the latest FCO travel advice by signing up to the FCO's Facebook and Twitter feeds.
Information about how the FCO can help British nationals abroad:
| The FCO can: | The FCO cannot: |
| --- | --- |
| Issue you with an emergency travel document | Help you enter a country if you do not have a valid passport or necessary visas |
| Provide information about transferring money | Give you legal advice or translate documents |
| Provide help if you have suffered rape or serious sexual or physical assault, are a victim of crime, are ill or in hospital | Investigate crimes or get you out of prison |
| Give you a list of local lawyers, interpreters, doctors or funeral directors | Get you better treatment in hospital or prison than is given to local people, but we will raise concerns if treatment falls below internationally recognised standards |
| Contact you if you are detained abroad | Pay any bills or give you money |
| Contact friends and family back home for you if you wish | Make travel arrangements for you |
| Provide help in cases of forced marriage |   |
| Assist people affected by parental child abduction |   |
Published 22 June 2015