World news story
Be part of the British Alumni Ecuador (BAE)
The association of ex-scholars and Ecuadorean students in the United Kingdom, British Alumni Ecuador (BAE), is a non-profit social organisation that groups people that have undertaken higher education studies in the United Kingdom.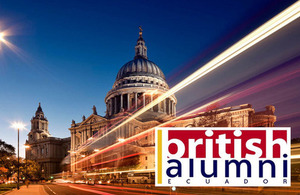 We are a very diverse organisation that consists of around 120 members ranging from an Ecuadorean ex-President, academics, internationally renowned artists, and professionals from such diverse sectors such as medicine, business management, and public politics, etc.
The association has a joint membership agreement with the Ecuadorean-British Chambers of Industry and Commerce (CICEB), through which BAE members can become members of the Chamber at a special rate, whilst receiving all the benefits that the Chambers gives to its members, including:
• To belong to a group of individuals with a high level of British academic and professional training.
• To integrate into a dynamic network of individuals and companies from a wide range of sectors.
• Access to a programme of exclusive business, professional development, cultural Exchange activities between Ecuador and Great Britain.
• To participate with special benefits in all the regular events of the British-Alumni and the Chamber such as seminars, working breakfasts and lunches, workshops, and social and cultural events.
• To receive regular information about issues of interest and all the activities of the British-Alumni and the Chamber – and its members, without additional costs.
• Preferential benefits in sponsoring events and advertising in publications.
• Access to specialised information of the British Chamber (Sectorial studies, lists of companies, among others) and of the Alumni (Academic orientation and information).
• To be an active member of the online community. This includes free publication of a CV and advertisements of professional, academic and business interest. Furthermore, with no additional cost, you will receive a personalised email address.
• Contact with the British Embassy and access to the services of UK Trade & Investment, the governmental organisation that supports business relations with Great Britain, and Britlan Group, a network of British chambers in Latin America, with information for the region about business, investment, and others.
• A 10% discount for both English-Spanish and Spanish-English translation services from professional translators certified by the Chamber for commercial and legal purposes.
• Discounts on different products and services that are given to the British-Alumni Chambers according to special agreements.
• If you have obtained a higher education degree in the UK, we invite you to be part of British Alumni Ecuador. Additionally if you would like to get more involved, there is an opportunity to join the board. We are looking for proactive members who could offer their time, commitment and expertise to enable BAE to work more closely with the Chamber and the British Embassy.
The first step is to send, until Friday 15 November 2013, an email to britishembassy.quito@fco.gov.uk with a short resume of yourself. The email must include the following information:
• Full names
• University in the UK
• Degree obtained in the UK
• Year the degree was obtained
• Current occupation (Organisation and position)
• Telephone numbers (office and mobile)
• Street address
• Email address
• If you are interested in being part of the BAE board, why and what you have to offer.
We will contact you after receiving this information, add you to our database and send you an invitation to participate in upcoming events. We are waiting for you!
Get the latest news in our Twitter or Facebook accounts.
Published 30 October 2013