BBC documentary to show Helmand through soldiers' eyes
A new documentary series starting tonight on BBC3 uses footage shot by British soldiers serving in Helmand province on cameras mounted on their helmets to tell their stories.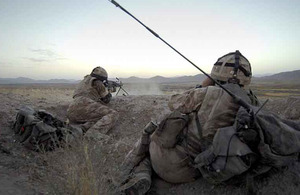 The makers of 'Our War: 10 Years in Afghanistan' claim it will offer viewers, for the first time, the chance to see as close as possible front line action through a soldier's eyes.
The programmes are mainly based on video footage gathered via personal cameras that have been fixed on the helmets of British soldiers who have deployed to Helmand in the last 10 years.
There are three 60-minute episodes in the series, each one looking at a specific time in Helmand over the last 10 years, with key sequences made up from the helmet-mounted cameras.
The eyes we see the front line through include those of Colour Sergeant (CSgt) Adam Swift MC and CSgt Paul Baines MC, both from 1st Battalion Coldstream Guards, and CSgt Simon Panter MC, from 1st Battalion The Royal Anglian Regiment.
They had all decided to fit cameras to their helmets to gather their own video footage for themselves. But once the BBC learned that this footage existed, the soldiers were keen to help make the programmes and offer their unique view of the combat mission in Afghanistan.
CSgt Panter appears in the first episode of the series which airs tonight, 7 June 2011. His footage is from his time as a Platoon Sergeant in A Company on Op HERRICK 6 in 2007.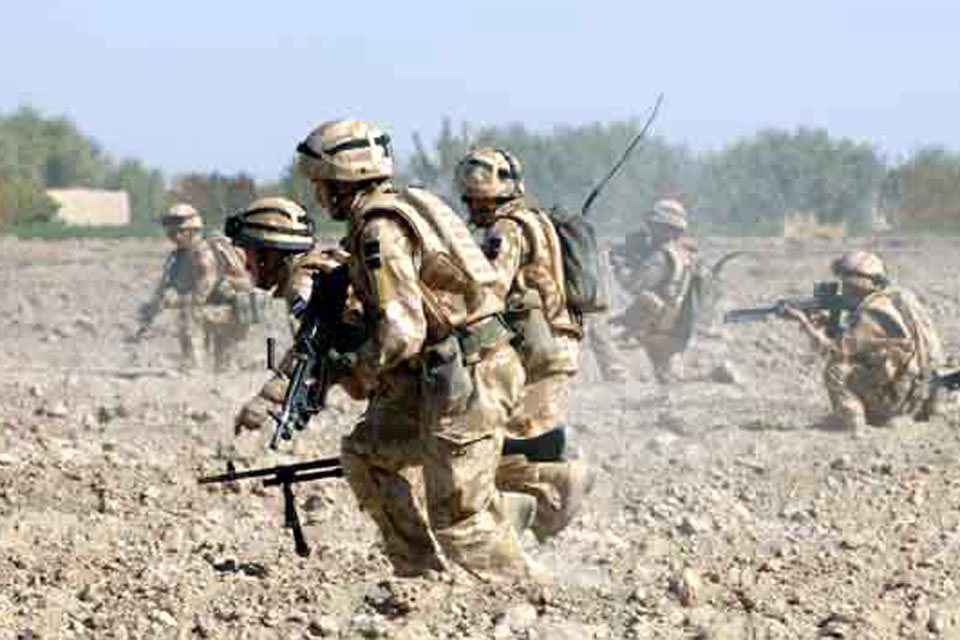 Although welcoming the opportunity to be involved in the series, CSgt Panter was unprepared for just how emotional the experience would be. In the programme, viewers see what he saw as he attempted to save the life of Private Chris Gray, who, aged 19, sadly died as a result of a fire fight with the Taliban:
It was quite tough to watch it back. Some of the footage I hadn't watched since I shot it. One of my soldiers died and I'm dealing with trying to save his life on camera.
It's not good when that happens to one of your blokes. It was very emotional and tough to watch it again.
CSgt Swift, whose footage is from HERRICK 4 in 2006, also found reliving the extreme experiences he faced in theatre a bit unnerving:
I forgot the feeling of the anticipation of the fight and how surreal it was.
It's weird so far down the line to be talking about it again although my time in Afghanistan has been such a big part of my life.
'Our War' Executive Producer Colin Barr believes that the programme's emotion and gritty realism will change the way that the British public views the mission in Afghanistan:
Meeting soldiers who were involved in every period of the mission in Afghanistan and using their own footage is pretty unprecedented and the MOD has given us overwhelming support/
The programme is extremely powerful. When you watch the footage, you feel like you end up somewhere completely different than you were expecting. It feels like it belongs to the soldiers who took part in it and it takes the viewer somewhere they've probably never been before.
This programme makes you see war in a way you haven't seen before.
CSgt Panter agrees:
The public is basically seeing what a soldier goes through and what the soldier's thoughts are about it, as opposed to seeing them in the correct military posture and answering questions in the right way. This is a bit more personal.
I think the British public knows roughly what goes on through the media, but this is really the first time that they can see it through a soldier's eyes.
CSgt Swift added:
It would be interesting to speak to somebody who hasn't been there, to see if they get the same feeling that I do when I watch it. When I watched it, my heart was going again and I was feeling the anticipation again before the fight. I think the programme gives that feeling off really well.
In addition to the soldiers' own 'headcam' footage, all three are interviewed and given the opportunity to explain in their own words how their Afghanistan deployments affected them. Mr Barr said:
Without exception, I was blown away by the military personnel we worked with on this programme. I was surprised about how self-aware they are and that they were so happy to debunk stuff that the general public normally hear about squaddies.
Their perspective on things was one that you rarely hear. They were utterly candid and the interviews felt very intimate. They were really, really impressive.
The soldiers' footage is being seen by some as a historical record of 10 years of a fierce war which many men and women have paid the ultimate price for. Mr Barr said:
This is an amazing, incredible record to have. It's being created every day and we have a snapshot of it.
I feel like we're creating an anthology of the Afghanistan missions and we're hoping to do something further with this material.
No war has been covered like this and we have to return to it. This is a living archive.
I think this programme will change the way people think about Afghanistan.
Published 7 June 2011