Battle of Britain town pays homage to remaining Few
The event was part of the Battle of Britain 70th anniversary commemoration and saw six veterans, now in their 80s and 90s, heartily cheered …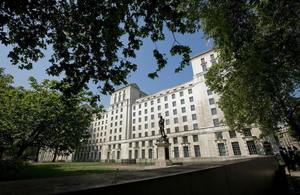 The event was part of the Battle of Britain 70th anniversary commemoration and saw six veterans, now in their 80s and 90s, heartily cheered as they arrived in Bromley's Market Square in a convoy of vintage vehicles as part of a parade led by 228 (Bromley) Squadron Air Training Corps.
Leader of the London Borough of Bromley, Councillor Stephen Carr, welcomed the 'living legends' Captain Billy Drake, Flight Lieutenant Bill Green, Flight Lieutenant William Walker, Squadron Leader Tony Iveson, Wing Commander Bob Foster and Wing Commander Peter Ayerst who, along with 3,000 other young airmen, had done their bit to defend 1940s Britain from the aerial onslaught by German bombers, and arguably from German invasion.
The event was held in Bromley due to the town's proximity to the famous fighter station at RAF Biggin Hill which was at the centre of events in the summer of 1940.
Wing Commander Martin Tinworth, Battle of Britain 70th anniversary project officer, said:
There is a huge level of public interest in this anniversary across the country and we want to show that the RAF is a progressive and modern Service that is proud of its heritage.
Representing RAF Northolt, Wing Commander Chris Platt explained that he was there to recognise the fact that both stations, Northolt and 'the Bump', as local RAF Biggin Hill was affectionately known:
…had a lot in common, not only did both stations come in for a lot of stick during the Battle of Britain, but 32 Squadron, which now operates from Northolt, had been originally based at the Bump.
He said that he felt sure that the veterans would recognise many of the elements that comprise today's squadron, especially the people and:
…their spirit and determination to do their job and stand firm in the face of enemy opposition.
Bromley's Mayor, Councillor George Taylor, said he was delighted to see so many people turning out to thank those who had fought against the enemy in the skies over southern England:
At Biggin Hill 453 airmen died in aerial combat and 91 died on the ground. For us, Biggin Hill is more than just an airfield; it represents all those who risked their lives for our freedom," he said.
The mayor then rededicated the freedom of the borough, originally given in 1980, by presenting a ceremonial sword to Wing Commander Bob Foster. The sword was then taken to the chapel at Biggin Hill 'where it will stay lest we forget,' said the mayor.
To end the ceremony there was a flypast by a Hurricane, a Spitfire and a Lancaster bomber of the Battle of Britain Memorial Flight, then 54 white doves were released - each one representing ten aircrew who lost their lives during the Battle of Britain.
The veterans and the civic dignitaries were joined by Dame Vera Lynn at the RAF chapel in Biggin Hill for a short service.
Forces sweetheart Dame Vera posed for pictures with the veterans and current serving personnel beneath the new gate guardians, a Spitfire and a Hurricane.
Display pilots, Flight Lieutenants Tim Clements and Rich Walton, who thrill the crowds with their aerobatic fast jet displays at the Biggin Hill air show, were thrilled to take time out from their rehearsals to meet the veterans and hear about their exploits.
In a characteristic display of understatement, veteran Group Captain Billy Drake said, pointing to the Typhoon pilots:
These are the real professionals. We were just bloody playboys who wanted to fly planes.
Published 29 June 2010