Battle of Britain remembered at St Paul's Cathedral
The bravery and fortitude of those who endured the Blitz and fought against the air power of Nazi Germany to win the Battle of Britain were remembered at St Paul's Cathedral yesterday, Tuesday 7 September 2010.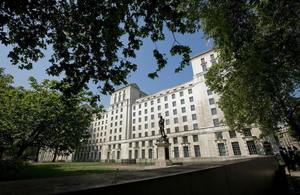 In addition to the RAF personnel that defeated the enemy in the skies, the City of London salute also commemorated the efforts of those who protected the city during the battle.
Pilots and other military personnel were joined at the service by firefighters, nurses and ambulance workers from the era.
The Lord Mayor of the City of London, Nick Anstee, said:
It is my great pleasure to be able to say thank you on behalf of the City of London Corporation to all those who took part in the Battle of Britain, the RAF Second World War veterans and their families, and to hold this remembrance service and reception in their honour.
More than 2,500 people packed into St Paul's Cathedral for the event, including His Royal Highness The Duke of Kent and Air Vice-Marshal Ray Pentland, the RAF padre who gave yesterday's sermon:
Without the Battle of Britain there would have been no D-Day, no victory in Europe," he said.

We remember and celebrate those who won for us freedom through their bravery and sacrifice. Their deeds shall never be forgotten.
The Blitz started to take its terrible toll on Britain on 7 September 1940 when Hitler ordered the Luftwaffe to lay waste to British towns and cities.
For 57 nights in a row there were heavy raids, targeting London, Liverpool, Bristol, Birmingham, Sheffield, Portsmouth, Cardiff, Southampton and Manchester, as well as Belfast and Scottish towns Greenock and Clydebank.
The legacy of the attacks remains to this day. By coincidence, a sad reminder of that time was uncovered yesterday when the Royal Navy's Southern Diving Unit One from HM Naval Base Devonport located and detonated a WWII-era air-dropped mine off the coast of Plymouth - one of approximately 1,320 high explosive bombs, 38,000 incendiary devices and 38 land mines dropped onto Plymouth during this period.
In total 18,000 tons of high explosives were dropped during the eight months of the Blitz, killing 20,083 civilians in London and 23,602 in the rest of the country.
The memorial service for those who fought and died was followed by a parade and a flypast by the RAF's Battle of Britain Memorial Flight - a Spitfire, a Lancaster bomber and a Dakota.
A replica Spitfire was also on show at the bottom of the main steps at St Paul's Cathedral which stood relatively untouched during the destruction of 1940 and became a beacon of hope for Londoners.
Published 8 September 2010