Press release
Battle for Britain's best high street
The Great British High Street competition has revealed the nation's best high streets.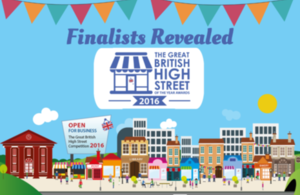 The Great British High Street competition has today (18 October 2016) revealed the nation's best high streets. Twenty-seven finalists now have the chance to impress an expert judging panel and battle it out in a public vote to be crowned Britain's best.
Winners in each category will not only get a share of prize pot worth £100,000, but they'll also receive expert training from Google's digital taskforce for shops, bars and restaurants and a trip to Twitter UK's London office to boost their social media skills.
High Streets Minister Andrew Percy said:
Our high streets are the life and soul of towns, villages and cities across the country and the record number of competition entries this year is proof of their continued importance to local life.

There are bustling high streets up and down the country from North London to Northumberland and now is the time you can show support for your local area and get voting.
Finalists:
City: Derby, Norwich, Bristol
Coastal: Prestatyn, Falmouth, Cleethorpes
Local Centre: Hoole, Tunbridge Wells, Claygate
London: Romford, Lower Marsh Waterloo, Myddleton Road Haringey
Market Town (small): Thame, Chipping Norton, Hebden Bridge
Market Town (large): Hinckley, Market Harborough, Bridgnorth
Town Centre: Hemel Hempstead, Banbury, Blackburn
Village: Langport, Kirkby Lonsdale, Pateley Bridge
Rising Star: Dornoch, Stockton-on-Tees, Leominster
The Great British High Street Competition 2016 celebrates the great work that is being done to revive, adapt and diversify the nation's high streets. It is one of a number of initiatives to help champion high streets as the cornerstones of the community.
The government is helping local business communities adapt to the changing face of high streets, with a £6.7 billion package of business rates support, to cut the rates for 900,000 businesses – with 600,000 now paying none at all.
This year's competition saw a record 900 entries across all 14 categories, including the new categories for individuals and shops.
The second Great British High Street competition last year saw 230 entries and attracted over 200,000 public votes, with Bishy Road in York, a former finalist, crowned Britain's best. Bishy Road found that winning not only boosted town pride, but also had a tangible economic impact with retailers reporting increased footfall.
Alongside the public's votes shortlisted areas will also be inspected by judges made up of industry leaders from across retail, property and business – including British Land, the Post Office and Holland & Barrett.
Voting closes on 18 November 2016.
Further information
The Great British High Street competition is run by the Department for Communities and Local Government and sponsored by British Land, the Post Office, Holland & Barrett, Boots UK, Google UK, Marks & Spencer, Wilko, Revo and Ellandi.
The Google Digital Garage on Tour is a workshop which includes sessions for businesses on finding and keeping customers online and the chance to have one-to-one consultations with Google specialists to chat through their businesses digital needs.
For more information or to vote for your high street visit the Great British High Street website
Office address and general enquiries
2 Marsham Street
London
SW1P 4DF
Contact form http://forms.communiti...
General enquiries: please use this number if you are a member of the public 030 3444 0000
Published 18 October 2016