Battle Back swimmers train in Gibraltar
A group of six servicemen from the Battle Back scheme have spent a week in Gibraltar honing their skills at the Army Swimming Team's training camp.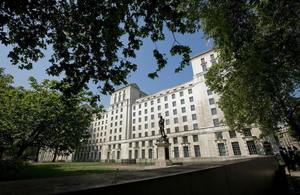 Battle Back is a tri-Service organisation which encourages injured Service personnel to participate in sport and adventurous training as part of the rehabilitation process.
Maintaining an active and healthy lifestyle is an important part of Service life and that includes those soldiers, sailors and airmen who have been seriously injured.
The Army's camp in Gibraltar provides training for open water swimmers, pool swimmers, water polo players, coaches and medics.
Corporal Dale Messenger suffered spinal injuries after being shot through the hips in Afghanistan last October and is one of the Battle Back team training in Gibraltar.
He said:
When we arrived at the weekend I just used my arms to swim the length of the pool before I had to stop to recover. Now I'm doing twenty lengths in the morning and another twenty lengths in the afternoon.
This is so worthwhile - I would definitely recommend it to any other battle casualty. I thought I could swim before I had my injury but now I've had to learn all over again.

We've got good coaches and I am now swimming more confidently than I was before.

But, thanks to Battle Back, I've done more sport in the last seven months than I ever did before. I've done water skiing, fencing, tennis and basketball.
One of the other Battle Back swimmers, Corporal Damien Manning, is good enough to swim competitively against able-bodied swimmers - despite having had his lower leg amputated.
The Army's Open Water Swimming Officer, Major Hamish McCarthy, is in no doubt about the value of the Gibraltar training camp.
He said:
This really is a great environment. We are made very welcome and the facilities are great.

In addition to the training, there is a tremendous camaraderie - this afternoon, the water polo players are in the sea to help the Battle Back guys. There's an excellent team spirit throughout the group.
Published 20 May 2010