Battle Back Centre opens in Lilleshall
An adaptive sports and adventure training centre to aid the recovery of injured Service people has been officially opened at Lilleshall.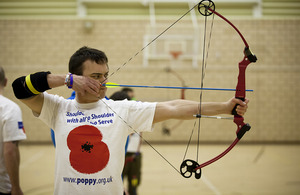 The Battle Back Centre (Lilleshall), which provides adaptive sport and adventure training activities to enhance the recovery of wounded, injured and sick men and women from all three Services, was opened on Thursday 22 November by the Royal British Legion and the MOD.
The opening ceremony was performed by Beth Tweddle, the Olympic medallist and Britain's greatest ever gymnast, and Mark Francois, Minister of State for Defence Personnel, Welfare and Veterans.
The Battle Back Centre (Lilleshall) is funded and operated by the Royal British Legion, in partnership with the MOD. Through a partnership with Sport England, the Centre has been established at Lilleshall National Sports Centre where many Olympians, including Beth Tweddle herself, and Paralympians train - providing an inspiring environment for recovery.
Participation in sporting and outdoor activities enhances recovery. The Centre encourages participants to focus on what they can do, rather than on what they can't, to help them improve their resilience and motivation and build confidence and independence to make the best possible recovery.
The Centre can accommodate up to 24 people on each course, with 16 rooms fully equipped for those who need wheelchair access or have other needs. Since pilot courses began last year, it has helped over 200 wounded, injured and sick Service personnel, and around 600 people a year can attend its multi-activity and training courses.
Activities at the Centre include wheelchair basketball, archery, indoor climbing, water sports and clay shooting, and participants often achieve things well beyond their own expectations. The Centre's coaching team helps them explore how they can use this sense of achievement in other areas of their lives.
The Carnegie School of Sport and Carnegie Great Outdoors, both part of Leeds Metropolitan University, provide the Centre's world-class coaching expertise. Independent evaluation of the programme, used for continuous improvement, is carried out by the University's Research Institute for Sport, Physical Activity and Leisure.
Beth Tweddle said:
The Battle Back Centre is a fantastic facility and I congratulate the Royal British Legion and everyone involved on what's being achieved here.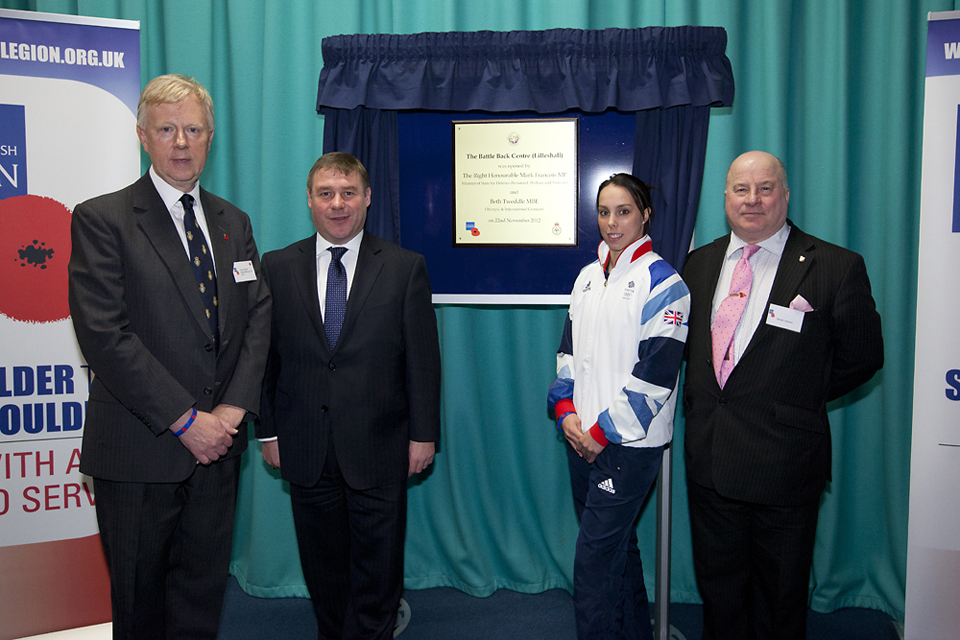 It's wonderful that servicemen and women, who have given so much for our country, can use their experiences at the Centre to build their motivation and their self-belief - as vital in dealing with everyday life as in sporting success.
Mr Francois said:
It has been a great honour to celebrate the opening of the new Battle Back Centre in Lilleshall today.
This represents a significant milestone in the delivery of the Defence Recovery Capability and it is a shining example of what can be achieved when the Government and the charitable sector work together to ensure our wounded, injured and sick personnel receive the very best care and support.
I am extremely grateful to the Royal British Legion and all of our other partners for their hard work and generosity in delivering these important services around the country.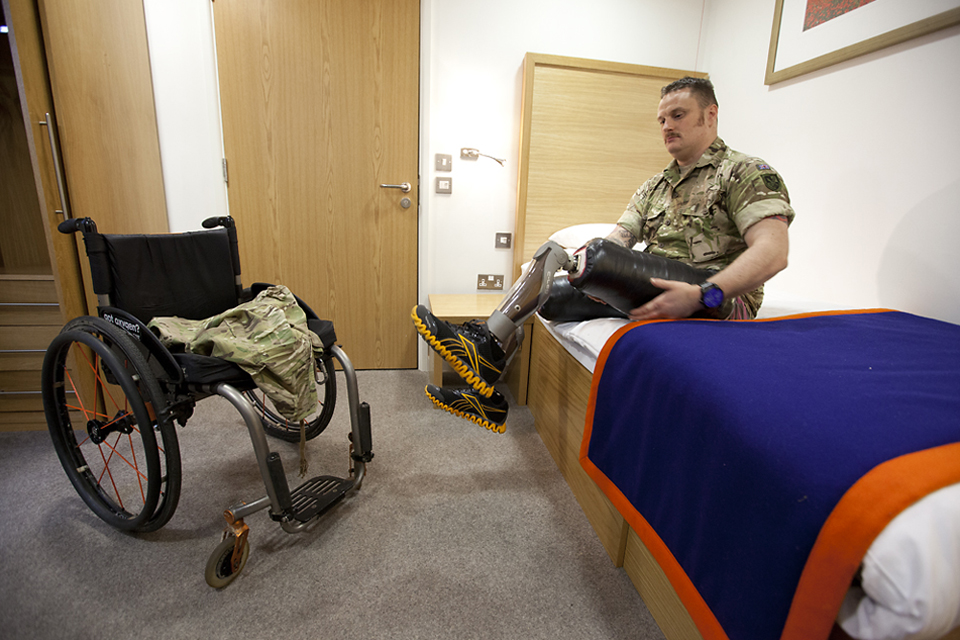 Vice Admiral Peter Wilkinson, National President of the Royal British Legion, said:
The Battle Back Centre has been created for the wounded, injured and sick servicemen and women who put themselves on the line for us all. Its aim, quite simply, is to help them make the best possible recovery and lead the best possible lives. We all owe them this.
Sapper Clive Smith is one of the faces of the Legion's Poppy Appeal 2012 and participated in the Battle Back Centre programme in April, returning to do a wheelchair basketball instructors course in September. He said:
Taking part in activities like wheelchair basketball, rock climbing and bowling was great fun and really encouraged me to focus on what I could do as opposed to what I couldn't do after injury. This positive outlook has really helped in all parts of my life.
Related News
Published 6 March 2013