News story
Battersea Dogs & Cats Home: David Cameron meets 1,000th volunteer
The Prime Minister visited Battersea Dogs & Cats Home today to meet the famous south west London charity's 1,000th active volunteer.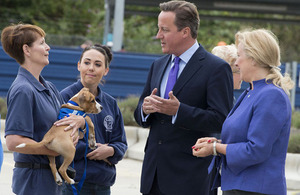 Prime Minister (PM) David Cameron met volunteer James Moore and thanked him and other Battersea volunteers for donating their time to the 152-year-old animal charity's 3 centres. The time volunteered this year already amounts to 50,000 hours.
James joins the charity's cattery and will help care for some of the home's 190 cats. More than 3 million dogs and cats have been rehomed by Battersea since it opened in 1860 and in 2012 it cared for 5,880 dogs and 2,760 cats.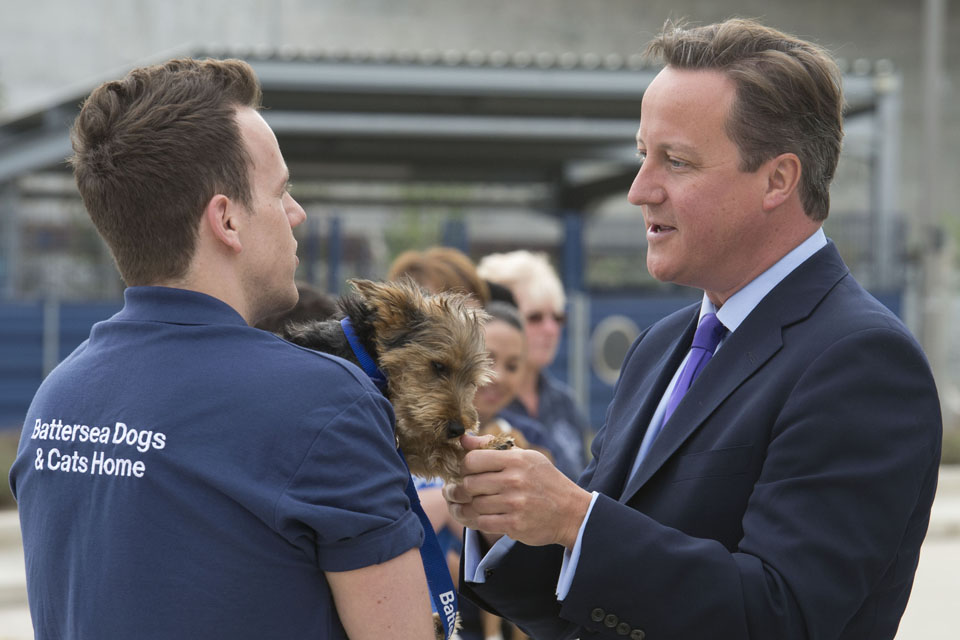 Commenting on his visit, the PM said:
Battersea Dogs & Cats Home have been doing fantastic work for over 150 years and I'm delighted to congratulate them on their 1,000th volunteer. Not only do they carry out vital frontline work in animal welfare, but also inspire people to make a positive difference with their time.

Today I've had the chance to see their volunteers in action and have been amazed by the commitment and enthusiasm of everybody here.
This was the Prime Minister's 1st visit to Battersea Dogs & Cats Home, although Downing Street successfully rehomed Larry, a Battersea cat, more than 2 years ago.
Welcomed by a unique Guard of Honour of Battersea dogs, looked after by volunteers, the PM also helped train a dog. He also visited the charity's cattery and clinic, where the full-time staff, vets and vet nurses enjoy the additional support of volunteers.
Battersea has seen a huge increase in volunteering, with a 45% increase in applications from all across the UK.
Published 13 August 2013