Bastion chefs keep forces fed in Helmand
It takes an enormous effort from a small but dedicated team of caterers and chefs to rustle up thousands of meals a day - a challenge made all…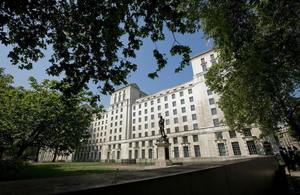 It takes an enormous effort from a small but dedicated team of caterers and chefs to rustle up thousands of meals a day - a challenge made all the harder working in the middle of the baking desert, at Camp Bastion in Afghanistan.
The dining facility at Camp Bastion 1 is capable of catering for up to 4,900 personnel a day. On a normal day, the number of diners is a staggering 3,700; that's 130,000 individual meals, on average, served up each week.
The workforce consists of 50 UK military and Sri Lankan civilian staff. The military personnel are from 3 Commando Brigade Royal Marines, and from 7 Brigade, based in Germany. They work seven days a week, roughly equating to one chef for every 123 soldiers.
The chefs work 12 hours on, 12 hours off, and are involved in all aspects of catering - preparing, serving, and clearing up after every meal.
To feed almost 5,000 people requires a lot of food. Every week, troops at Camp Bastion consume:
• 8.8 tonnes of potatoes
• 7.5 tonnes of chips
• 1.4 tonnes of sausages
• 2.3 tonnes of bacon
• 5.9 tonnes of beef; and
• 12.7 tonnes of chicken.
On top of that 2,250 litres of water are drank, and all for less than a budget of £4 for every Service person every day.
The man overseeing this enormous task is Warrant Officer Class 2 (WO2) Ben Stephenson, of the Royal Logistic Corps (RLC), who is the Regimental Catering Warrant Officer (RCWO). In a 22-year Army career, WO2 Stephenson says this is the largest kitchen that he has ever run.
There are five full meals served a day - breakfast, lunch, guard, evening and night meals. In addition, hot container meals and 500 packed meals a day are prepared for those not able to get to the dining facility. There is also a requirement to provide meals for hospital patients, who often have special dietary and cultural needs.
The kitchen also provides hot or cold buffets for VIPs, and, on request, provides food for individual BBQ's.
Able Seaman (AB) Jason Hitchcock, is a Royal Navy chef working at Camp Bastion, on his first tour in Afghanistan. His previous job was with HMS Cornwall during its Gulf deployment.
AB Hitchcock volunteered to come to Bastion because he wanted do something different:
Here I don't have to worry about the sea state and things falling off surfaces. I do the same job out here, but on HMS Cornwall I was preparing for 280, here it is up to 5,000.
The best thing out here is being part of a team, although I miss going home at weekends," he said.
It is WO2 Stephenson's decision on what makes the menu. This is not as easy as it would be back in the UK; all the food has to be planned and ordered weeks in advance.
There is a labyrinthine international supply chain for all food, which is transported in from the UK on container ships, through the Mediterranean and Suez Canal, and on to Karachi.
There, the huge ISO containers are transferred to civilian trucks and driven through Pakistan to Afghanistan, with inevitable red tape slowing things down along the way.
Between 25 and 40 ISO containers arrive at the kitchen every three days, supplemented with five tonnes of fresh fruit and vegetables, which arrive by aircraft three times a week.
Working conditions are far from easy. A new kitchen is due to open in September, but until then the kitchen facility is housed in a number of large tents.
Lance Corporal Losalini Naitau, RLC, is also on her first tour in Afghanistan:
The heat in the kitchen can be unbearable at times, so it makes the job more challenging," she said. "We work long hours, so you have to enjoy the job.
WO2 Stephenson is justifiably proud of his team. The high standards and the hard work that they all put in, to routinely serve up nutritional, varied and tasty meals, over and over in the face of adversity, really is food for thought.
Published 20 April 2011