Press release
Bascule Bridge improvement work
Road users are advised that the A12 Bascule Bridge in Lowestoft will be closed overnight for four weeks from Tuesday 7 April for major improvement work on the bridge lifting mechanism.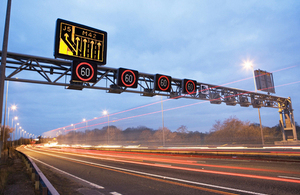 There are four sets of hydraulic motors on the Bascule Bridge which have developed faults and need replacing to help prevent the need for further maintenance work on the bridge as well as to keep Bascule Bridge in a safe condition.
The work will be carried out from 7 April for 18 nights between 8pm to 6am from Sunday to Thursday.
Highways Agency Asset Development Manager, Brian Pitkin, said:
We have planned the works to begin in April, during the spring, to avoid disrupting busy seasons and the works will take place overnight Sunday to Thursday, again, to minimise disruption to Lowestoft.

We have been liaising with lifting bridge specialists to ensure we have their expertise when planning the work with our contractors. The works are extremely technical and the Bascule chambers are a difficult area to work in.

The work is being carried out now to help to prevent future unplanned closures of the bridge.

We have informed local businesses and residents who are affected by these closures to ensure they're aware of the works and we are providing a bus service for pedestrians during the closures.
The works will consist of replacing the hydraulic motors which power the bridge and supporting steelwork.
National traffic travelling northbound will be diverted to the A1117 Bloodmoor Road, at the A12/A1117 Bloodmoor Road Roundabout continuing on the A1117 (Bloodmoor Road, Elmtree Road, Cotmer Road) to its junction with the A146 Bridge Road, turn left onto the A1117 Bridge Road, continue on the A1117 (Normanston Drive, Millennium Way, Bentley Drive) to re-join the A12 Yarmouth Road and vice versa for southbound traffic.
Local traffic travelling northbound will be diverted off the A12 London Road onto the A146 Pier Terrace continuing along Horn Hill, Waveney Drive and Victoria Road, turn right to join the A1117 and cross the bridge, continue to follow the A1117 Normanston Drive and St Peters Street to the roundabout with Katwijk Way, turn left to join the A12 Artillery Way at the next roundabout and vice versa for southbound traffic.
Drivers intending to travel on the A12 Bascule Bridge are advised to plan their journeys and allow some extra time to reach their destinations. The Highways Agency provides live traffic information via its website, iPhone app, local radio travel bulletins and electronic road signs. Travel information is also available by phone from the Highways Agency Information Line on 0300 123 5000 and updates will be provided via Twitter @HAtraffic_east.
General enquiries
Members of the public should contact the Highways Agency Information Line on 0300 123 5000.
Media enquiries
Journalists should contact the Highways Agency press office on 0844 693 1448 and use the menu to speak to the most appropriate press officer.
Published 27 March 2015