News story
Baroness Warsi's Ramadan message
Faith and Communities Minister Baroness Warsi sends her warmest wishes to everyone observing the holy month of Ramadan.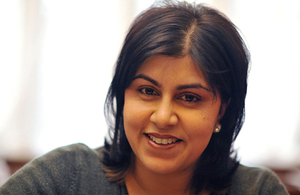 Faith Minister Baroness Warsi said:
I wish to extend my best wishes to all Muslims in the United Kingdom and across the world who are marking Ramadan this year.

Ramadan is a time to remember those who are less fortunate than ourselves, it is also a time for reflection and contemplation.

During this important time the values we hold close are ones that I hope people of different faiths, and those of no faith can also take shared comfort from, regardless of where we live in the world or the community we belong.

This is also a time when millions reach out, offering charity and support to those most in need. It is a great source of pride that Muslims show this generosity by giving more to charity than any other religion.

I'm pleased to see the return of the 'Big Iftar' this year where mosques will once again be welcoming their local community, friends and neighbours to share the iftar with them at events taking place across the country.

I wish you well and good health over the forthcoming month and a very soulful and peaceful Ramadan.
Published 27 June 2014