News story
Baroness Warsi sends her best wishes to those celebrating Eid
Faith and Communities Minister, Baroness Warsi, sends her best wishes to those who are celebrating Eid.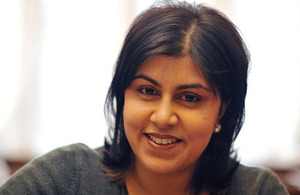 I want to send my best wishes to Muslims across Britain and beyond who are celebrating Eid ul Fitr. Ramadan this year - falling during long July days and in the middle of a heatwave - has been a particular challenge, but it is one which British Muslims rose to with their usual enthusiasm and resolution.

I wanted to take this moment to congratulate the British Muslim community on the resilience and strength it has shown at a time when there have been unacceptable attacks on mosques, community centres and British Muslims. These criminal attacks will not be tolerated and those responsible will be brought to justice.

Despite this, the true spirit of Islam shone through this Ramadan, as communities united to do good deeds, families came together to give thanks, and people of all faiths and none got to know each other at Big Iftars taking place up and down the country. In fact, a timely survey published during Ramadan showed that Muslims on average give more to charity than any other group in Britain.

I hope we can let that spirit continue through Eid and beyond, ensuring that the philosophy of Ramadan - of forgiveness and compassion, of charity and good deeds - remains at the heart of our actions throughout the year.

Eid Mubarak.
Baroness Warsi Eid message 2013
Published 8 August 2013