Baroness Warsi reiterates UK commitment to Afghanistan
Senior Foreign Office Minister Baroness Warsi jointly chaired the first meeting of the Afghanistan–UK Joint Commission with Deputy Foreign Minister Ludin.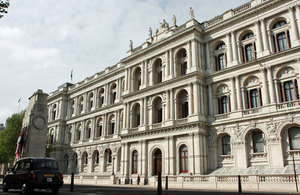 The Joint Commission was established to review implementation of the Enduring Strategic Partnership signed by President Karzai and Prime Minister David Cameron on 28 January 2012. They reviewed progress made under the Partnership and agreed priorities for continuing co-operation.
Read: Afghanistan-UK Joint Commission statement in full
Speaking at the end of her visit, Baroness Warsi said:
"I was pleased, during my first visit here to Kabul, to reaffirm the UK's enduring commitment to Afghanistan, highlighted by the many areas of cooperation we have discussed today.
"Whilst there will be no UK combat troops in Afghanistan after 2014, the unprecedented commitments made by the UK and our partners at the conferences in Chicago and Tokyo, demonstrate clearly that we will be supporting Afghanistan for the long term.
"These commitments, alongside efforts towards a more inclusive political process are key to preserving the historic gains that Afghanistan has made in the last ten years in areas such as education, women's rights and economic development."
During her three day visit to Kabul, Baroness Warsi held wide ranging talks with members of the Afghan Government including Deputy Foreign Minister Ludin, Minister of the Interior General Patang, Director of the National Directorate of Security, Asadullah Khaled, Head of the Joint Secretariat Mohammad Massom Stanekzai and with Deputy Minister for Women's Affairs Mizghan.
She also met with Deputy Commander ISAF Lieutenant General Nick Carter, senior Parliamentarians including the speakers of the two Houses and human rights activists, including the Chair of the Afghanistan Independent Human Rights Commission Sima Samar. The Minister also had a chance to see the work of Afghan women at a UK funded tailoring project and hear directly about some of the challenges they face.
Published 16 October 2012