Baroness Warsi meets Secretary General of the Organisation of the Islamic Conference
Professor Ekmeleddin Ihsanoglu, Secretary General of the Organisation of the Islamic Conference, met British Cabinet Minister Baroness Sayeeda Warsi at the OIC's Headquarters in Jeddah today.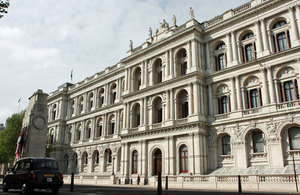 Secretary General Ihsanoglu welcomed Baroness Warsi as the first Muslim British Minister visiting the OIC HQ, and indicated his pleasure on the willingness of the UK for further strengthening relations with the OIC, as evident in the growing number of high level officials from the UK meeting with the OIC Secretary General in recent months.
In their second meeting in six months, Professor Ihsanoglu and Baroness Warsi discussed opportunities for deepening UK-OIC relations.
In addition, Baroness Warsi expressed her firm support for the recent agreement between the UK's Department of International Development (DFID) and the Islamic Development Bank to send a secondment from DFID to the IDB, which was announced during Secretary of State Andrew Mitchell's valuable visit last month. Baroness Warsi commented that, "this appointment is a positive step in further strengthening UK relations with the OIC which is the most prominent organisation in the Muslim world."
Baroness Warsi acknowledged the importance of the OIC and underlined UK support for the OIC's work. As Britain's first Muslim Cabinet Minister, Baroness Warsi also discussed her desire to raise awareness within the wider Muslim world of the successes of, and opportunities available to people of all races, faiths and genders in the UK.
Published 20 November 2010