News story
Baroness Warsi launches Together in Service: the next phase of support for multi-faith volunteering
A major new programme to celebrate, promote and link the huge variety of social action undertaken by the nation's faith communities was today (14 February 2013) launched by Faith and Communities Minister Baroness Warsi.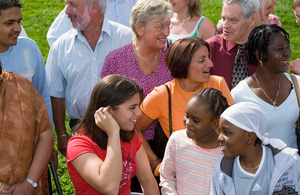 'Together in Service' is a 3 year programme celebrating social action projects, and can be based around each of the faith communities religious festivals or dedicated volunteering days. It is designed to motivate and inspire new work, especially around multi-faith volunteering projects between religions.
The initiative will be based around an ongoing monthly calendar of faith-based volunteering. Up to 1 week every month will be focused on the volunteering that the featured faith undertakes by itself, for example the Christian-led Street Pastors or food banks. The programme will then feature multi-faith projects, where the lead faith has joined up with other religions to deliver voluntary work.
The programme will be supported by a 'fellowship' of active volunteers who can provide training, information and wider support to new and existing organisations. This can inspire them to deliver multi-faith volunteering projects, while building on the enthusiasm generated as part of last year's A Year of Service.
A Together in Service fund of up to £300,000 over 3 years is available in the form of small grants for multi-faith projects. Up to £1,000 will be on offer to help get local projects off the ground in areas where there may be a lack of confidence or knowledge in undertaking volunteering work in a multi-faith way.
Baroness Warsi was speaking at the launch of the 2012 National Church and Social Action Survey which found that volunteering in churches has increased by 36% in just 2 years, showing that the appetite for social action is on the increase.
At the event, Baroness Warsi said:
"Our faith groups make a huge contribution to society with an army of dedicated volunteers who commit their time and enthusiasm throughout the year.
"The research from Jubilee Plus shows that this work is more valuable now than ever, from holding mother and toddler groups to arts clubs and caring for the elderly, the contribution of all faiths to the greater good cannot be underestimated.
"That's why I'm thrilled to announce Together in Service today to build on this excellent work. I'm proud that we live in a society where faith-based community action is at the forefront of our communities, showing that people who do God, do good."
Communities Minister Don Foster said:
"Together in Service is a fantastic way of celebrating existing social action projects and to inspire and encourage new and exciting multi-faith volunteering across the country.
"The hard work, commitment and dedication of our faith groups plays a vital role in our communities. It makes them a stronger and more supportive place to live and shows that social action is at the forefront of community life.
"I look forward to seeing some exciting multi-faith Together in Service volunteering projects over the forthcoming months."
Further information
Baroness Warsi was speaking at the launch of the 2012 National Church and Social Action Survey. The results can be found here.
The Department will provide £150,000 a year for 3 years. The funding will come from contributions from faith communities with DCLG match-funding up to a limit of £100,000.
See more information on events that took place during A Year of Service and information on Near Neighbours.
Published 14 February 2013